Have you ever tried an apple sandwich? It sounds a bit unusual, but I assure you it is delicious.
Apple Sandwich Recipe
I first encountered the concept of an apple sandwich from the children's book Ginger Pye by Eleanor Estes. This book was first published in 1951. As my children and I were reading the story we came across this description of apple sandwiches.
"Jerry had also first called Rachel's attention to apple sandwiches. 'They are very good,' he said. 'An apple sandwich?' asked Rachel in surprise. The image of a large apple in its natural state, bulging between two thin slices of bread, had flashed before her eye. 'No, foolish," said her brother. And slicing his apple in his same ceremonious way, he had put these crisp slices between two well-buttered slices of bread. He had invited Rachel to have a bite, a small bite, and it was good."
I think this is a cute little scene in the book. I like the description of how Rachel imagined the sandwich looked. When we first read this part of the story I remember being intrigued by the concept, though I certainly never expected to actually make the sandwiches. It was one of those things that I just filed it in the back of my mind.
However that all changed one afternoon. I was in the kitchen making lunch for the family. I rummaged around, trying to piece something together. We were low on groceries and the options were limited. But I did have bread, butter, and apples.
All of a sudden this scene from the book Ginger Pye came to mind. And I realized that with what I had on hand I could make apple sandwiches! So I gave it a whirl. It turns out, just as Jerry says in the book, that apple sandwiches are quite delicious. The flavor is reminicent of apple pie, but it is much easier to make than apple pie!
It was kind of fun to be able to pull off a literary inspired meal (it is no secret around here that I highly value books).
Sometimes I enjoy the challenge of creating a meal when we are low on our stock of food. Though I must admit that my family is not always as thrilled with my creations.
But in the case of apple sandwiches, we had a winning combination!
Apple sandwiches are a refreshing take on traditional sandwiches. It makes a particularly nice substitute for regular old peanut butter and jelly.
The ingredients that you will need to make apple sandwiches include:
-bread
-salted butter
-apples
-cinnamon (optional)
I like to use a rustic oatmeal based bread for this recipe. My favorite is a Steel Cut Oatmeal bread that I get from a local bakery. It creates a great base and compliments the other flavors nicely.
A high quality salted butter is also a key ingredient to this sandwich. I buy this grassfed butter in bulk from Azure Standard.
Any kind of apple will work for this recipe. If you prefer a more tart flavor then you might want to consider using Granny Smith or Pink Lady apples. If you prefer a more subtle flavor, then Gala or Fuji apples would be a better choice.
The cinnamon is an optional ingredient, but if you are going for the apple pie taste, then I highly recommend that you include it.
Making the sandwich is quite simple. The first thing you need to do is slice the apple. I find that I usally use about 2/3 to 3/4 of an apple, depending on the size of the apple. I like the slices to be really thin so that I can layer them onto the sandwich.
Next you will butter both sides of the bread. We are not afraid of butter in our family. Since we use a high quality butter, I like to spread a good amount of butter onto the bread.
Once the butter is spread, layer the apple slices onto one slice of bread. It is fun to make a beautiful design with the slices.
Next you will gently sprinkle the apples with some cinnamon.
Place the other slice of bread on top and then cut the sandwich in half before you eat it. I find that it is much easier to eat the sandwich when it is cut in half, otherwise the apple slices have a tendency to fall out of the sandwich.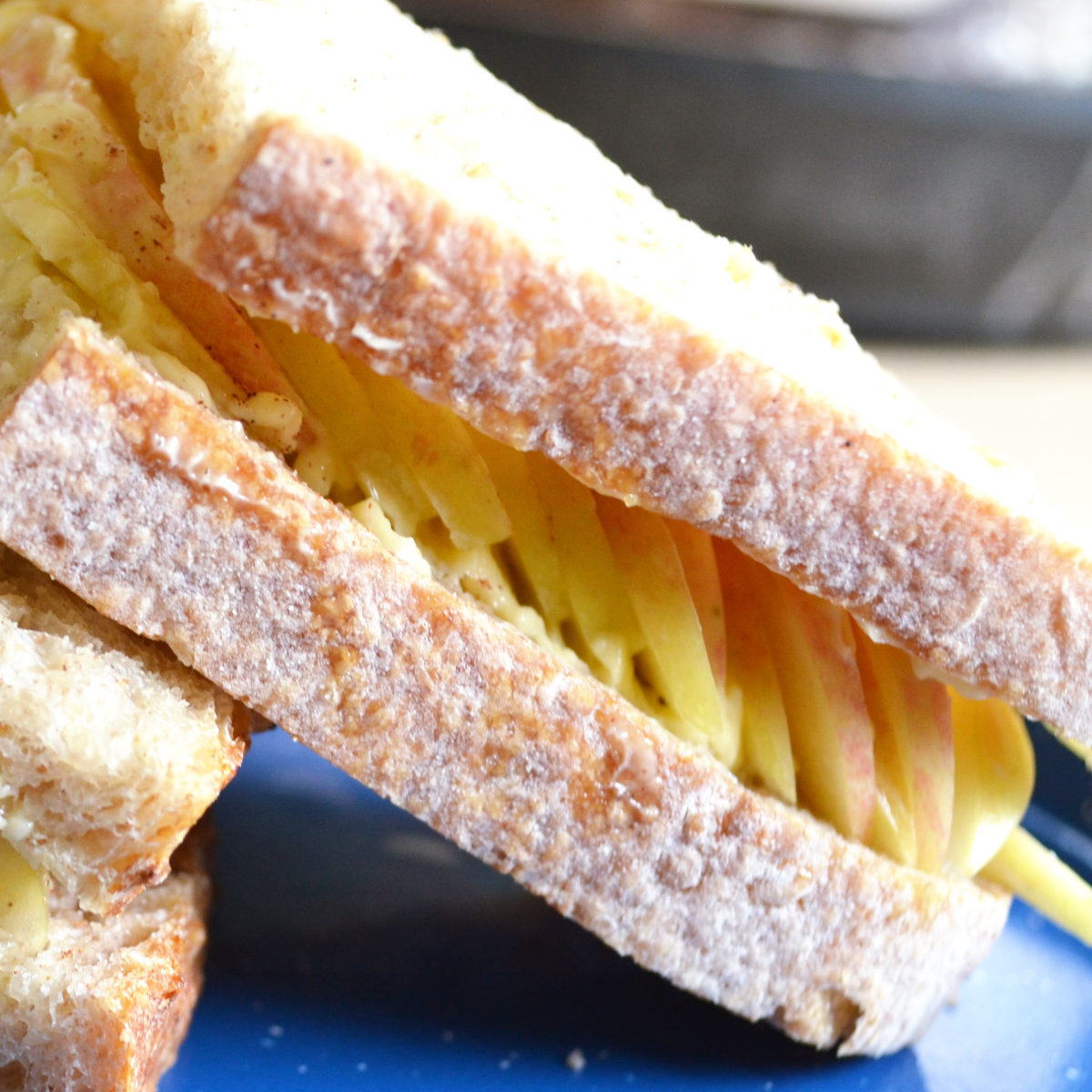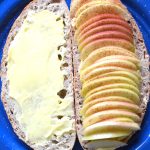 Print Recipe
Apple Sandwich Recipe
Ingredients
2

slices

bread

2

tbsp

butter

salted

1

apple

thinly sliced

sprinkle

cinnamon

optional
Instructions
Butter both slices of bread.

Place the apple slices on one of the slices of bread.

Sprinkle with cinnamon (if using).

Place the second slice of bread on top of the slice of bread with the apples on it.

Cut the sandwich in half.
Notes
Any type of apple will do, choose according to personal taste.