Irish Setters are beautiful dogs with gregarious personalities. But do they make good family dogs? How do they do on the homestead? This article will explore the beautiful Irish Setter breed and share our experience of how our Irish Setter does with our family and on the homestead.
Irish Setter Characteristics
Hailing from Ireland where they were bred as hunting dogs centuries ago, Irish Setters are friendly and intelligent dogs.
Irish Setters are a medium-large breed. Male Irish Setters weigh between 65-75 pounds, and females weigh between 55-65 pounds. Irish Setters are tall with a slender and athletic build. They generally live to be 12-15 years old.
Perhaps the most distinguishing characteristic of Irish Setters are their beautiful red coat that varies from a chestnut to mahagony color. They have long hair that feathers out at the chest, tail, legs, and ears.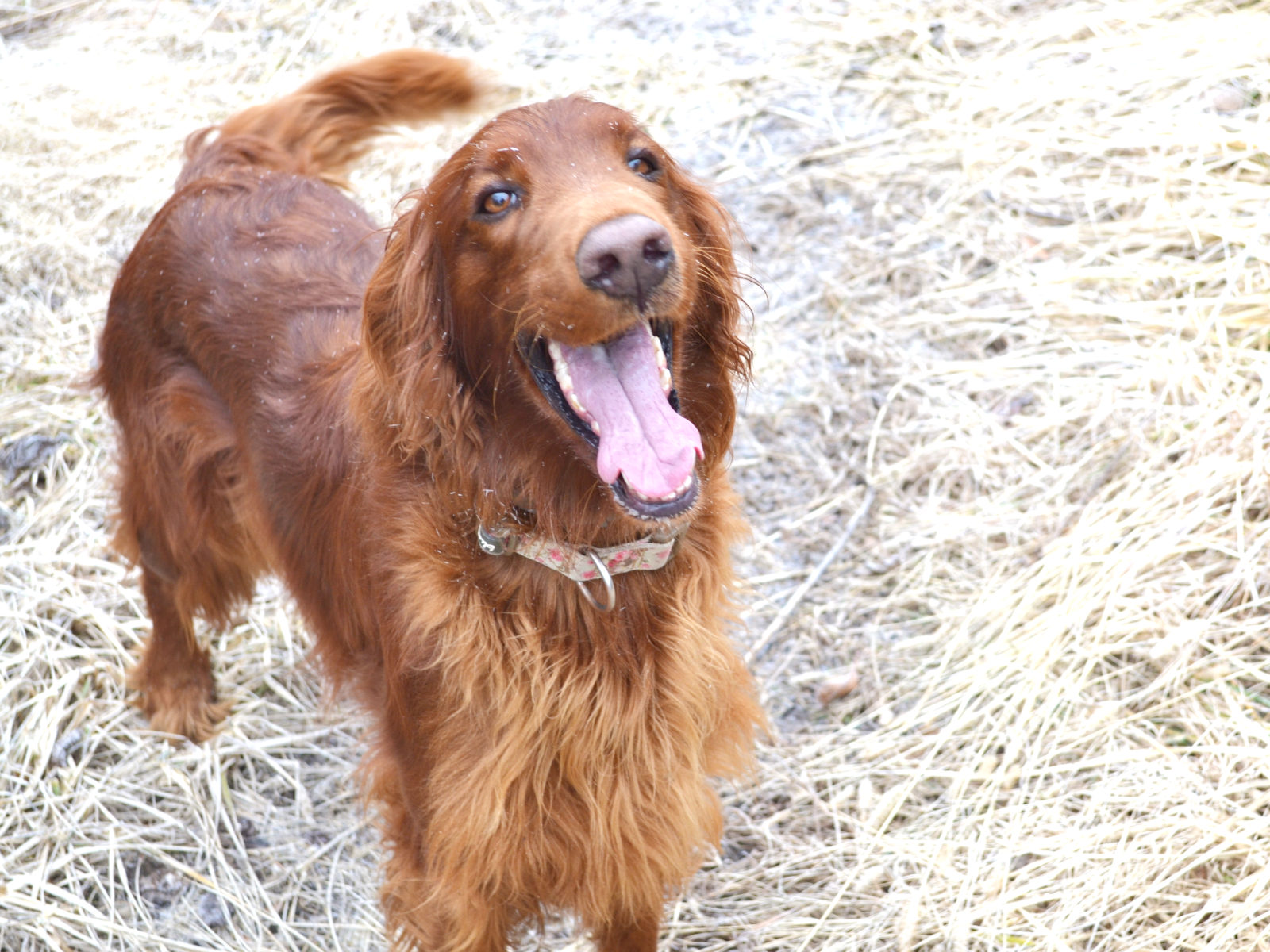 Irish Setters perform well in the field, and they also love to be around people. They have a lot of energy and are slower to mature due to their very high energy level. Irish Setters require daily exercise and mental stimulation. The breed  also likes to please, and as a result is quite trainable.
Irish Setters as Family and Homestead Dogs
Are Irish Setters Good Family Dogs?
Irish Setters make great family dogs…in the right situation! Irish Setters require frequent excercise and therefore a decent sized backyard is almost a requirement for owning an Irish Setter. It would be very difficult to live with an Irish Setter in an apartment.
Additionally, a family that owns an Irish Setter will need to be home often enough during the day to properly exercise the dog. If the whole family is at work and school for nearly the whole day, an Irish Setter will struggle due to its high energy level.
Irish Setters are slow to mature, which basically means they have an extended puppy stage. Around 18 months of age, our dog started to calm down a little bit, but she still had a great deal of energy.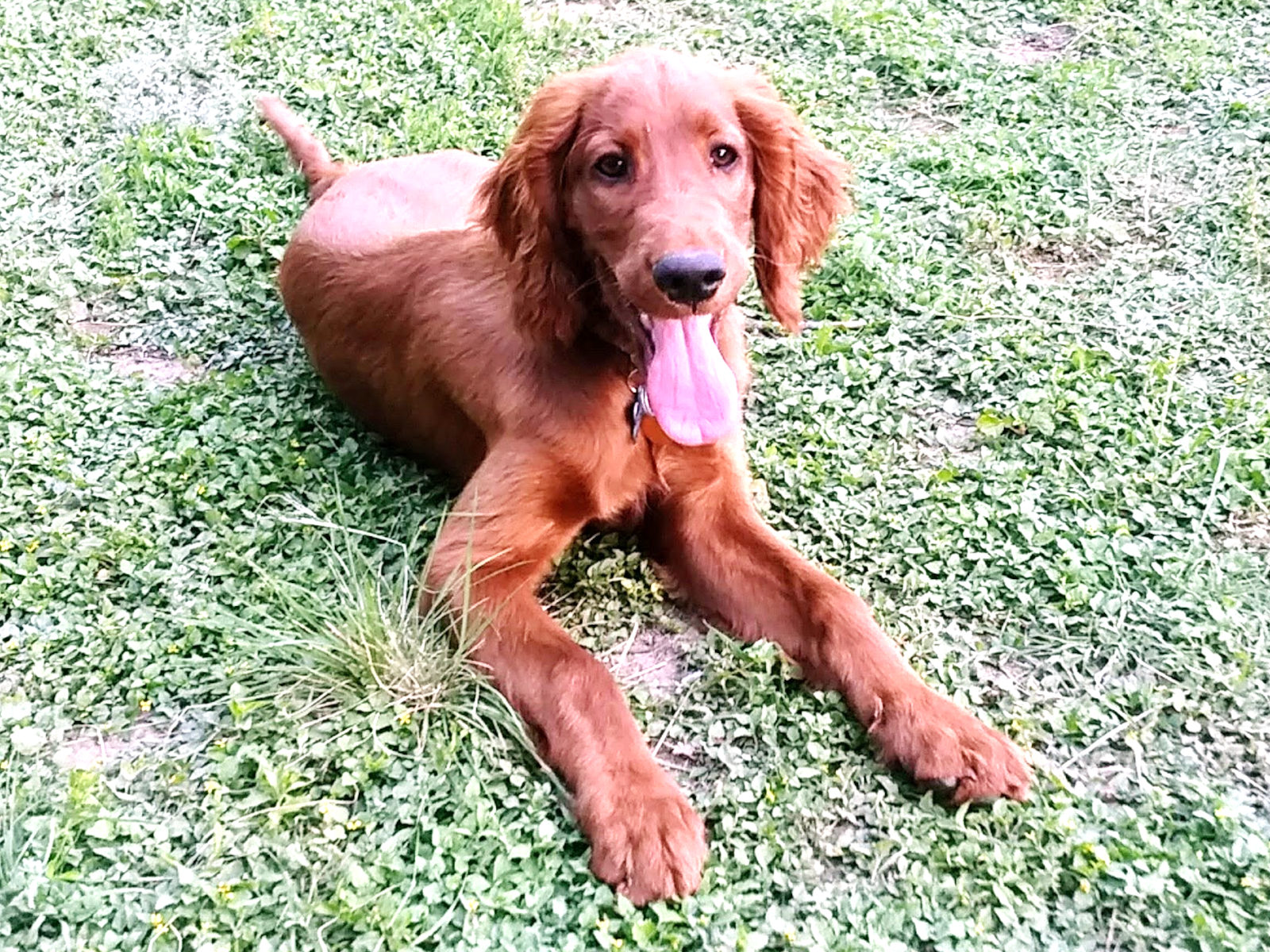 There was another shift in her energy level and maturity around the age of two years old. At that time she still had a lot of energy and needed a positive outlet for that energy, but she seemed better able to control her energy.
Rather than running around the house like a tornado all the time, she could wait until she was in the backyard or on a walk before she unleashed her energy. Basically, she figured out when it was appropriate to release her energy.
Irish Setters tend to do well with children and other animals as well. Our dog is often a playmate to our children and she has never shown aggression towards them.
When she was a younger puppy, she did have a tendency to chase our cat. Fortunately we had a great cat who was not at all intimidated by her. He frequently put her in her place and she learned to respect him.
Irish Setters like to please, and therefore are easy to train. We found that our Irish Setter was quick to pick up basic commands and she learned a few simple tricks with ease.
Irish Setters on the Homestead
We have found that our Irish Setter thrives on the homestead. With ample room to romp around and plenty of opportunities to explore, she loves life on the homestead.
Our Irish Setter does very well with our various livestock animals. She is respectful of the larger animals and does not pester the smaller animals, such as the poultry.
While Irish Setters are not guard dogs, our dog exhibits a natural ability to ward off smaller predators. We have seen her chase away raccoons, opposums, and hawks. She has also flushed out squirrels from under the hood of our cars (the pesky squirrels like to chew wires under the hood).
She is very trustworthy and is not prone to wandering. It is comforting to know she is always nearby and we have peace of mind about her whereabouts. But she is also always happy and eager to go on a walk through the pasture. She runs through the pasture at full speed and has the time of her life.
Frequently Asked Questions
Do Irish Setters Shed a Lot?
Irish Setters have long hair and do not have much of an undercoat. They shed, but not an extraordinary amount. We find that it is similar to human hair. We find random hairs here and there, but there is not excessive hair all over everything.
It is necessary to vaccum around the dog crate on a regular basis as some piles of hair will accumulate around the edges of the crate. But again, there is not an excessive amount of hair.
While they do not shed a lot, their hair does require regular brushing. Their long hair attracts seed heads and brambles that can be difficult to get out because they get tangled in the long hair. If not maintained, the hair can become matted.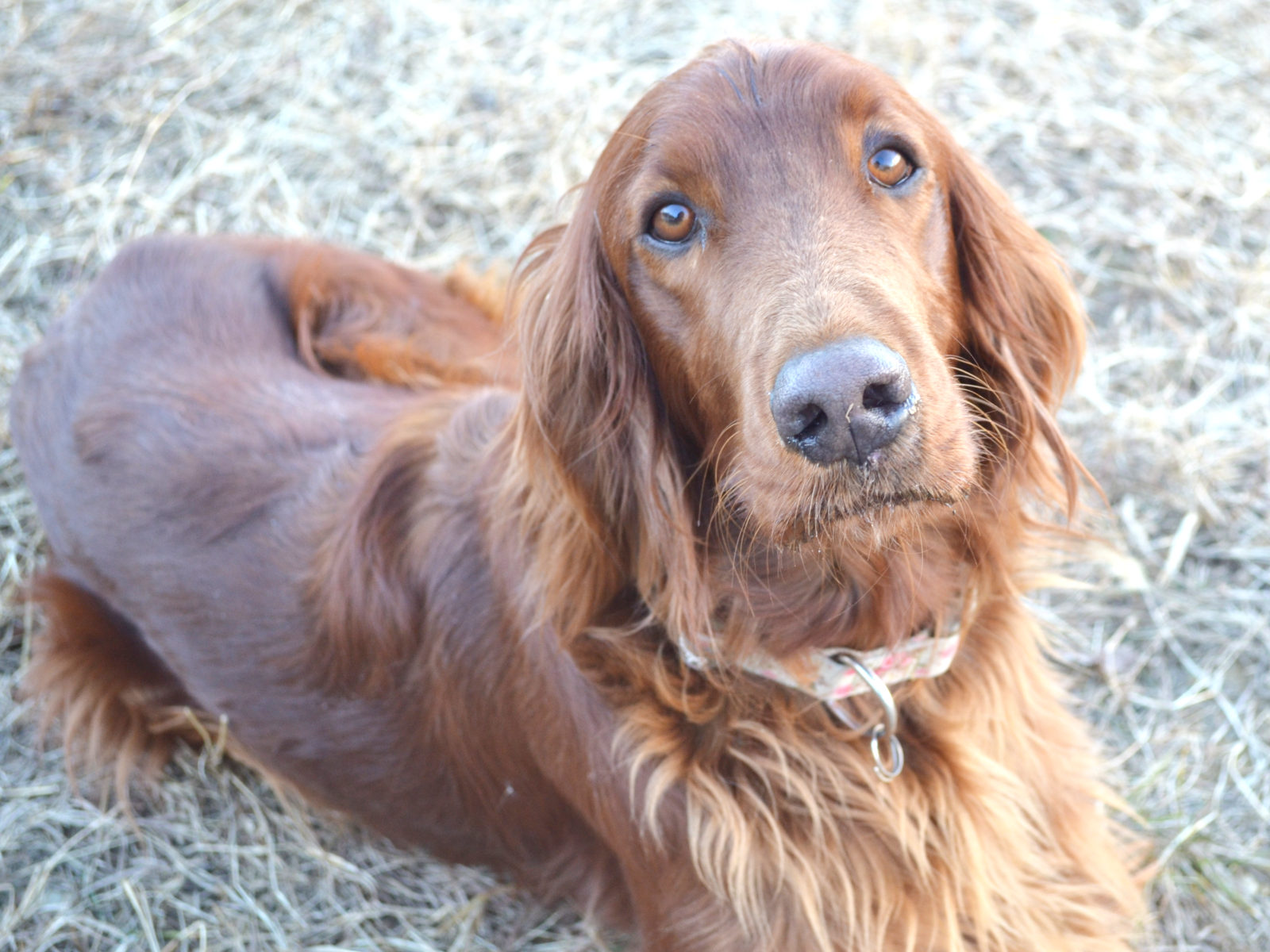 Are Irish Setters Aggresive?
Irish Setters are not an aggresive breed. When purchased from a reputable breeder and raised in a loving home, they should not exhibit any aggresive behavior. Our dog has a warning bark that she uses when people she does not know approach our home, but she does not show any aggression towards people beyond a reasonable bark.
Once she is introduced to the person and knows they are safe, she happily greets them.
Can Irish Setters Be Left Alone?
Irish Setters can be left alone, but it is necessary to keep their energy needs in mind. It is unreasonable to expect an Irish Setter to be left alone in a small space for an extended period of time without the opportunity for exercise. If they are not properly exercised, they have the potential to get themselves in trouble when left alone.
We crate trained our Irish Setter from the very beginning. We made sure to exercise her before we put her in the crate. And we never left her for more than 1-2 hours at a time. When we returned home it was necessary to give her another opportunity to run off her energy.
Around the age of two and a half, our dog reached a point of maturity to where she could be left alone outside of the crate and for slightly longer periods of time. We now occasionally leave her for up to 4-5 hours. But those moments are few and far between.
Conclusion
Irish Setters are a beautiful and loving breed of dog. They make fantastic family dogs, as long as a family understands the high energy level of Irish Setters. Frequent exercise and access to a backyard will set a family up for success with an Irish Setter.
A family must also be ready to commit themselves to working with the dog through an extended puppyhood. It is important to consider the family's schedule to ensure the dog will be properly socialized and excerised throughout the day.
There is so much pleasure to be had in owning such a fun loving and regal looking dog. We love our Irish Setter and are thankful for how she loves and respects our family.
We are also so pleased with how well she does on the homestead. She is a natural around the livestock and the ability to run in wide open spaces is perfect for her high energy.
There is much to love about Irish Setters! Have you ever owned an Irish Setter? What are your thoughts about them? Feel free to share in the comments below!