This easy Instant Pot chili recipe is a variation of a family recipe that I have used for many years. It cooks up a quick pot of chili, perfect for when you need a filling meal on busy days.
Instant Pot Chili
This chili has been my go to recipe for years. When I was growing up, it was one of my favorite meals that my mom made. There is something about the smell of chili filling the house on a cold winter's day that makes things extra cozy.
In my family we also call this "Wheelbarrow Chili." And there is a story behind that name. Back when we were still living off the grid, we had a small gathering of family for my daughter's birthday. In need of a meal that I could feed a crowd but lacking a proper kitchen, I decided to make chili in my pressure cooker, We also roasted hot dogs over the fire to go along with the chili. It was the perfect meal for an outdoor birthday party in October.
We had actually gotten our grid electrical hookup a few weeks before the party, but it was located a good distance away from where we had our off grid campsite setup. Since we still did not have water at that point (we were hauling in our water), we did not move over to the electrical hookup because we were nicely settled in our current spot.
In order to make the chili I had to haul my pressure cooker and all of the ingredients over to the electrical hookup. I used a wheelbarrow to take everything over there. After the chili was done cooking, I put my pressure cooker in the wheelbarrow and hauled it back over to where the party was taking place. The chili was a hit with everybody. My aunt decided to name it "Wheelbarrow Chili" in honor of the ever so sophisticated manner in which the chili was delivered to the party. We all got a kick out of that, and ever since then we refer to it as Wheelbarrow Chili.
This is my go to, crowd pleasing recipe. I am constantly getting compliments on how delicious it is.
I can also claim that this is an award winning chili. I made this chili and took it to a friendly chili cookoff at a Christmas party with friends. This chili won first prize.
This recipe is very versatile. It can easily be doubled for a larger crowd. It can also be made vegetarian by replacing the beef with one 15 oz can of black beans.
If you prefer to make your chili in crockpot, simply cook the ground beef and onions together on the stove, then transfer to the crockpot. Add in all of the other ingredients and stir. Cook on high for 3-4 hours or low for 5-6 hours.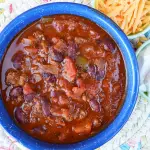 Print Recipe
Instant Pot Chili
An easy and delicious chili recipe. Perfect for a cold day.
Ingredients
1

lb

ground beef

1

15 oz

can diced tomatoes

1

10 oz

can diced tomatoes with green chiles

1

15 oz

can kidney beans

drained

1

cup

tomato juice

1

6 oz

can tomato paste

1

yellow onion

diced

1

green bell pepper

diced

1

oz

taco seasoning

1

tsp

salt
Instructions
Turn on the saute function of the pressure cooker and set to medium heat.

Place ground beef, diced onion, and taco seasoning in the pressure cooker.

Cook the ground beef and onion until the ground beef is cooked through and the onion is softened, about 5 minutes.

Add the diced tomatoes, diced tomatoes with green chiles, tomato juice, tomato paste, and kidney beans.

Add the diced bell pepper and salt. Stir all of the ingredients until mixed.

Place the lid on the pressure cooker. Set the pressure cooker to manual pressure and cook on high for 20 minutes.

Once the pressure cooker is done, do a quick release and remove the lid of the pressure cooker.
Notes
Can be made vegetarian by replacing the ground beef with one 15 oz can of black beans.