If you are wondering what you can wear to stay warm outdoors on the homestead, this guide will share practical information and give suggestions for basic items that will not overfill your closet. Not only is it important to keep yourself warm outside in the winter for the sake of comfort, it is imeperative for your safety.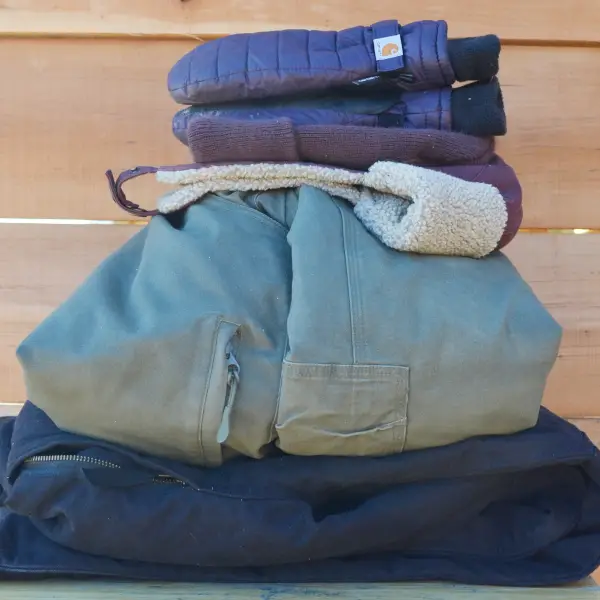 I live in an area that gets cold in the winter, and every so often we will get an artic blast that brings even lower temperatures. That means that all of the cold weather gear that I use has been used regularly in typical cold temperatures. It has also been tested in extremely cold weather, with temperatures as low as -20 degrees Fahrenheit. 
Working outside on the homestead in the cold of winter is not always a fun task, but when you live on a homestead, it is a necessary activity. Our livestock depend on us to keep them warm and safe in cold winter weather. It is a job we take very seriously, because we want to provide them with the best care possible.
Having said that, I admit that when it is really cold outside, I often struggle to rouse myself from my warm and cozy home to go outside and tend to the animals and chores. But over the years I have found that when I dress properly, I can keep warm outdoors in the winter. In fact, once I get out there I find myself enjoying the cold weather.
Sometimes you just have to embrace the cold instead of fight it. I have discovered that getting motivated to get out in the cold is very much a psychological matter. Once you master that, and when you have clothing that will help you stay warm outdoors, you will be much more comfortable going about your homestead chores.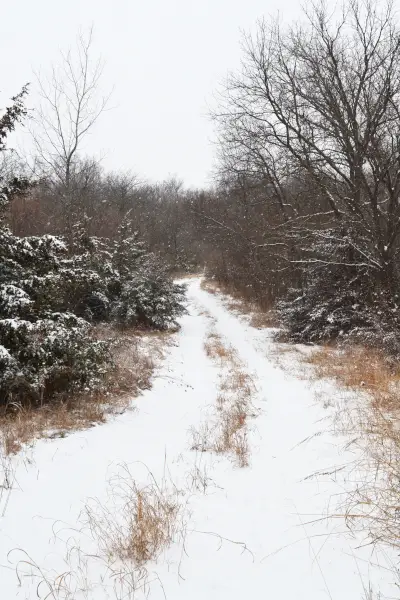 With these tips you will be able to create your own system to keep yourself warm outdoors on the homestead. Dressing properly for cold weather does not have to be complicated. While I do not consider myself to have a minimalistic wardrobe, I still like to keep my winter clothing (and belongings in general).
I like to use what I already have to create a nice layering system. At the same time, I do not like the feeling of being overly dressed or poofy with many layers on. I prefer to have freedom of movement in order to perform chores more efficiently. Those factors will affect what I personally recommend.  
What to Wear to Keep Warm Outside
Base Layer
The first item that you need to stay warm outside on the homestead is a base layer. You want to avoid cotton material for your base layer. If you get sweaty while working the cotton will get wet and make you cold. In extremely cold weather, it can actually be dangerous. A real thermal base layer will wick away the moisture.
I would recommend having two pairs of base layer clothing. That way you can wash one pair and have the other pair ready to wear. Thermal clothes can also double as pajamas, which is very helpful for a more minimalist wardrobe
Middle Layer
The next item to have in your layering system is a middle layer. Fleece makes a great middle layer and it is very comfortable to wear. A regular sweatshirt would work just fine as a middle layer. I use a simple fleece jacket for this layer.
I like to use a fleece jacket because it doubles as a standalone jacket in warmer weather. I prefer fleece jackets that zip, but a pullover one works fine too.
Heavy Work Coat
A good coat is going to be your best friend in keeping you warm outside in the winter. But homesteaders have special considerations when it comes to a good coat. It is important to have a work coat that is durable, cleans up well, and that will allow you to have freedom of movement so you can complete your outdoor chores with ease.
I personally love my Duluth Trading Company coat. I received it as a birthday gift and it has served me very well over the last couple of years. It has gussets in the shoulder area that give me freedom of movement. I highly recommend this coat. There are other similar options such as Carhartt and Berne.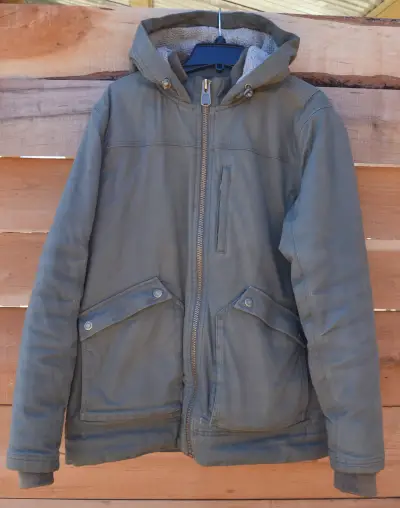 Pants
As far as pants are concerned, I love the versatility of fleece lined leggings. They are quite substantial on their own and I often feel comfortable wearing them even when it is cold, down to about 15 degrees. They're also very comfortable and flexible and make doing chores easier because of that.
If it is very cold I will also wear thermal pants with jeans. Flannel lined jeans are also an option. They sound very appealing to me however I have never had personal experience with them. It is something that I would like to add to my wardrobe.
Hats
My favorite hat is my Carhartt beanie. It keeps me warm and I like it because I can wear it underneath my hood. At first I did not like it because I felt like it slipped off my head a lot. But I found that by folding the bottom part up into a taller band, it stayed in place better.
I also have this hat with ear flaps that snaps under my chin and it is nice for when it gets really cold and I want to make sure my ears have extra protection. Another item that is nice to have is a face covering of some sort. I use a neck gaiter that I can pull up over my mouth and nose. I only use this when it is extremely cold. I like this particular one because the material is thin and easy to breathe through but it also provides some protection for my face.
Gloves
Proper gloves and mittens are an extremely important thing to have when you are outside in the cold. They can make or break how comfortable you feel out in the cold weather on your homestead. These Carhartt mittens are my absolute favorite cold weather item for my hands. They are extremely warm and they are durable. I am able to wear them for most of the chores that I do but sometimes not being able to move my fingers individually can be restrictive. For when I need to be able to move my fingers independently, I like to use insulated work gloves like these.
Socks
Socks are also very important. I like to use wool blend socks such as ones that are made by Smartwool. I have heard nothing but graet things about Vermont Darn Tough socks. I personally have not used them but the next time I need to buy more socks I plan to buy some of these socks. They have an outstanding warranty on the socks and they will replace socks that get holes in them. That is unheard of customer service in this age of disposable clothing, and I highly respect this company for standing behind its products.
Footwear
Boots are where I tend to go against the grain a bit. Many homesteaders like to use insulated work boots such as Muck Boots or Bogs. My husband has this pair and they work well for him.
However I prefer minimalist style footwear that has a spacious toe box, flexible soles, and are zero drop. I find the typical homestead work boot to be constrictive, heavy, and cumbersome, and therefore I do not like to wear them. It is not easy to find work boots that fit my particular standards, but fortunately I have managed to find some that I am very happy wih.
These insulated Columbia Minx boots work very well for me. If you take out the insert in the footbed then they are zero drop. They are very comfortable and do a decent job at keeping my feet warm, especially when paired with a good pair of socks. They also have these tall ones. The downside of these boots is that with the fur around the top, they are difficult to clean when they get muddy.
Generally this is not a problem during the coldest part of winter because everything is frozen. However, we do find ourselves in a freeze thaw pattern several times throughout the winter, and it can get muddy during those cycles. So when I am in need of a more substantial boot that can handle the mud better, I simply wear my general work boots which are these Lems leather boots.
I cannot sing the praises of these boots enough. I searched long and hard for a minimalist boot that was substantial enough to hold up to homestead life. These boots are exactly what I was looking for. They are extremely comfortable, durable, and substantial enough that I feel comfortable wearing them when I work around big livestock. They are also surprisingly warm when paired with a good pair of socks, though they are not the best in the coldest of cold weather. 
Insulated Bibs
Insulated bibs are probably the most important item you can have in your wardrobe for the extremely cold weather. They are amazingly warm. They allow me to work outside for a prolonged period of time and to remain comfortable while doing so. While wearing these insulated bibs along with my Duluth Trading Company coat, I essentially feel impervious to the cold weather.
The downside to them is that they can feel somewhat cumbersome, and in case you have not noticed already, I really like to have freedom of movement with the clothing I wear.  Because of that, I tend to only wear my insulated bibs when the temperatures are extremely cold, or if I will be working outside for a long period of time. When I need the extra warmth these are the absolute best item I have. This pair that I have is very durable and well-made and I highly recommend them.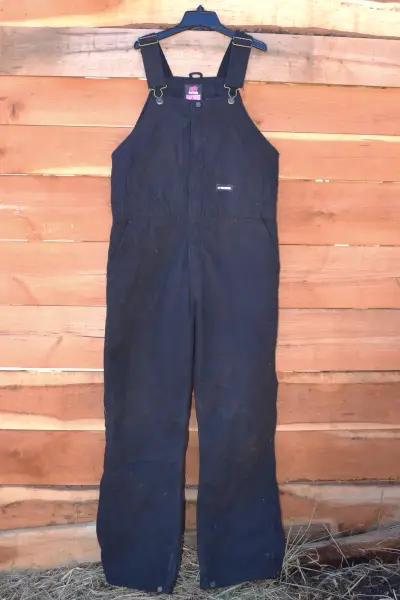 Where to Source Winter Homestead Clothes
Some of the items in my winter wardrobe are basics that you likely already have in your wardrobe. A few items are more expensive and I have invested in them over the years. The more expensive items have been absolutely worth it because they last for many years. Here are a few budget minded suggestions for sourcing warm winter clothing.
Thrift Stores
Thrift stores are a good option. However during the winter months it can be hard to find items that will keep you warm outdoors because that is when other people are buying. Also, people tend to purge their winter gear to donate in the spring, just as the season ends. I recommend keeping an eye out for cold weather clothing during the spring and summer months.
Thrift stores that are in warm climates can also be a gold mine for like new winter items. The reason being that people from warmer climates will buy brand new winter clothes to keep them warm outdoors for their vacations to cold climates. Then when they return home they donate the winter clothes. If you find yourself visiting an area with a warmer climate, make time to visit a thrift store and you should be able to find some good deals.
Online Thrift Stores
Another resource I use to find winter clothing are online thirft stores such as thredUP and. thredUP has a healthy selection of clothing items. This is a great place to look if there is a specific item that you are looking for.
Their prices are not as cheap as a regular thrift stores, but it can be much more efficient to locate an item online rather than combing through many thrift stores for that one elusive item. 
You can find better deals on thredUP by looking for items that are discounted. I hav also had success with their sales and coupons. (If you click on the thredUP link you can use my referral code to get $10 to use on your first purchase. I will also get $10).
Gifts
When I am in need of an investment piece I often times ask for it for my birthday or for Christmas. Sometimes if the item is quite expensive and I will just ask for cash that I can use to offset the cost of the item. Practical gifts are some of my favorite gifts.
A Note on Outdoor Winter Clothing for Kids
Making sure that your kids are warm in the snow and cold weather is also very important. You can follow all of the exact same principles for clothing your kids. Make sure they are layered with a base layer, a middle layer, and a good work coat. Several of the items that I mentioned are available in kids size as well, such as socks, the Columbia boots, and insulated bibs.
For winter coats my kids use these Berne coats. My kids really like their insulated bibs. In addition to wearing them for chores, they also work well for playing in the snow and sledding. The bibs keep them dry and warm and they enjoy spending time outside when they have them on
Dressing to stay warm outdoors can make a big difference in your ability to enjoy homestead chores. When purchasing clothing in general I try to strike a balance between practicality, thriftiness, and investing in nicer items when needed. Dressing to stay warm outdoors is a good example of applying these principles to building a practical wardrobe.