Sloppy Joes. A classic vintage recipe that still enjoys a popular following today. Sloppy Joes make a great weekday meal that is easy to pull together and is a big hit with the family!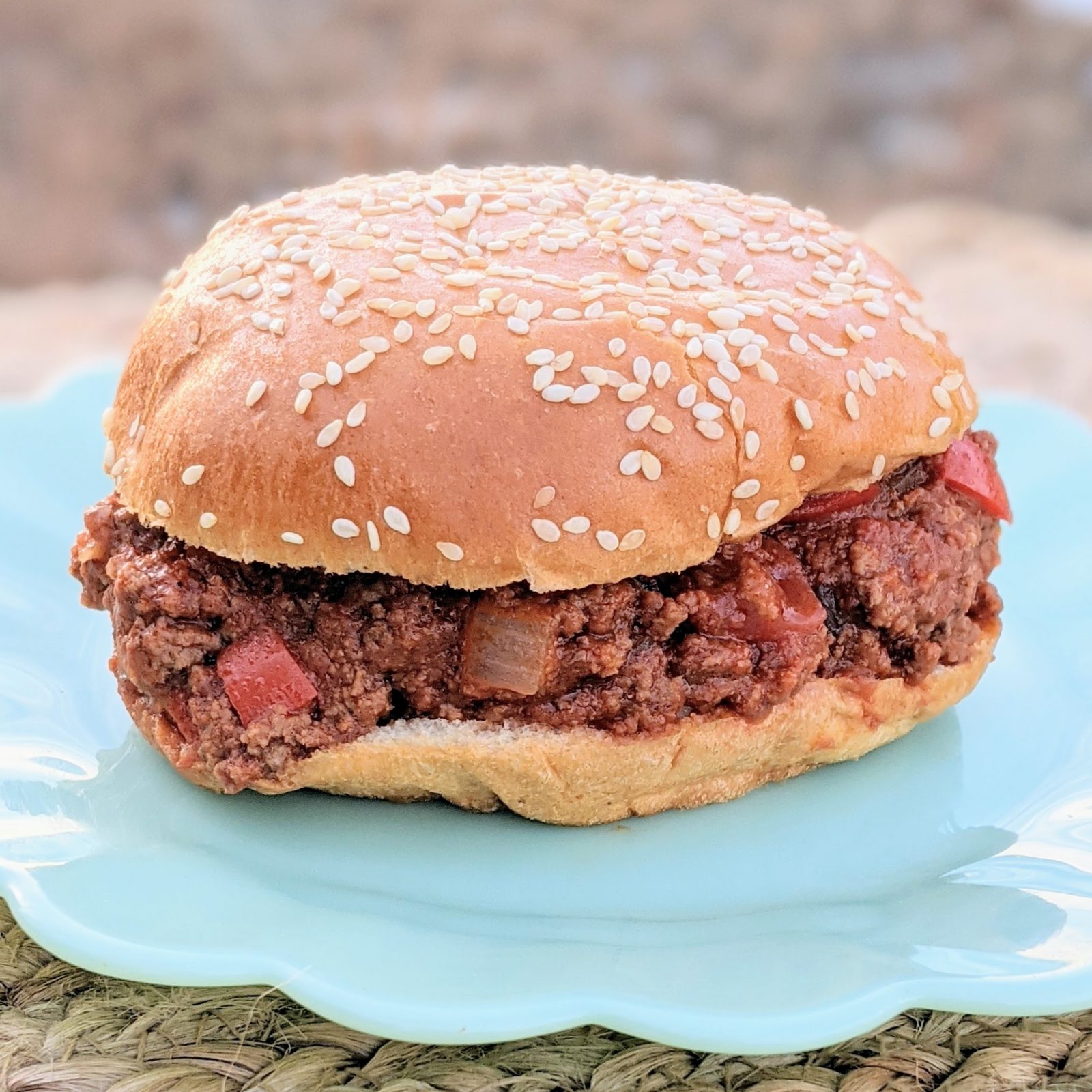 History of Sloppy Joes
There is a debate about the origin of sloppy Joes, but there is no doubt that it is a recipe that dates back to the early 20th century. Some theories suggest that the sloppy Joe sandwich originated at Sloppy Joe's bar in Havana, Cuba. This bar was a popular place amongst American tourists, particularly during the Prohibition.
Another potential origin of sloppy Joes is from a different Sloppy Joe's bar, this one was located in Key West, Florida, which coincidentally opened on the day that the Prohibition ended in 1933.
A third potential source of the sloppy Joes sandwich traces back to a tavern in Sioux City, Iowa. The tavern served "loose meat sandwiches" which are sandwiches that are made from seasoned ground beef and topped with pickles, onions, mustard, and ketchup. Similar to hamburgers, but with loose meat instead of a patty.
Supposedly in the 1930s, a cook at the tavern, named Joe, created a loose meat sandwich with a tomato based sauce. And that is how it came to be known as the Sloppy Joe sandwich.
It is hard to know for certain which origin story is true, but regardless, we know that sloppy Joes have been in existence in some form since the 1930s.
Sloppy Joes became more popular in the 1940s when recipes started showing up in cookbooks. They gained an even larger following in the 1970s with the introduction of Manwich, a tomato based sauce that is added to ground beef. It essentially creates ready made sloppy Joes.
Sloppy Joes can sometimes get a bad rap for its humble look and odd combination of ingredients. But it is hard to argue with the popularity that it has maintained for almost 90 years.
Sloppy Joes Variations
At its core, sloppy Joes are a basic combination of ground beef with a tomato based sauce. Classic recipes tend to have little variation between them.
The biggest difference that you are likely to find with sloppy Joes is the use of a pure tomato based sauce vs the use of ketchup.
Some recipes simply call for ketchup, and a lot of it! Others use tomatos in various forms with added ingredients and spices. And some recipes use a combination of the two- using mostly tomato products and adding in a little bit of ketchup too.
I have to say, I have some opinions about this! I honestly cannot stand sloppy Joes that use ketchup as their only source of tomato product. I enjoy ketchup, but as a condiment, not as a sauce base!
When I developed my sloppy Joe recipe it was important to me that I use actual tomato products to make the tomato sauce. I think it creates a much more enjoyable recipe with richer flavors.
Nearly all sloppy Joes recipes call for onion. And most will also call for either celery or green bell pepper. I think sloppy Joes are enjoyable both ways. If I had to pick one, I would probably pick bell pepper over celery.
If you enjoy a softer sauce, then you will defintely prefer bell pepper. If you like a bit more of a bite to your sauce, then celery is definitely the way to go. I usually use whatever I have on hand. The day that I photographed this recipe I used celery. But just know the two ingredients are completely interchangable depending on your personal preference.
Sloppy Joes recipes usually have sugar in them. I tend to keep sugar at a minimum in my kitchen, but I knew that this recipe really did need to have some sugar in order to taste authentic. I chose to use sucanat sugar. I like sucanat because it is an unrefined sugar. It has a bit of a molasses type flavor to it, and I knew that flavor would blend in well with the other ingredients. My recipe uses less sugar than what you would find in most sloppy Joes recipes.
Family Friendly Recipe
This is a very family friendly recipe! It is a hit with all of my kids. I love how simple it is to throw the ingredients together and make a satisfying meal.
Sloppy Joes, as its name suggests, can be rather messy. One time one of my kids was complaining about how messy the sandwich was. I simply said "That's why they are called Sloppy Joes!" Which elicited a laugh from everybody and good humor was restored. Sometimes you just have to embrace the messy and enjoy it for what it is worth.
Sloppy Joes Recipe
Ingredients
-2 lbs ground beef
-1 cup yellow onion, chopped
-1 cup celery, chopped (can substitute chopped green bell pepper)
-1 1/2 tsp salt, divided
-1 tsp garlic powder
-1 tbsp dry mustard
-1/4 tsp cayenne pepper
-1 tbsp apple cider vinegar
-1 tbsp lemon juice
-1 tbsp sucanat (or sugar of choice)
-1 6 oz can tomato paste
-1 8 oz can tomato sauce
-1 15 oz can diced tomatoes
-8 hamburger buns
Method
The first step is to put the beef, chopped onions, and chopped celery in the pot. Add the garlic powder, mustard powder, cayenne pepper, and 1/2 tsp of salt.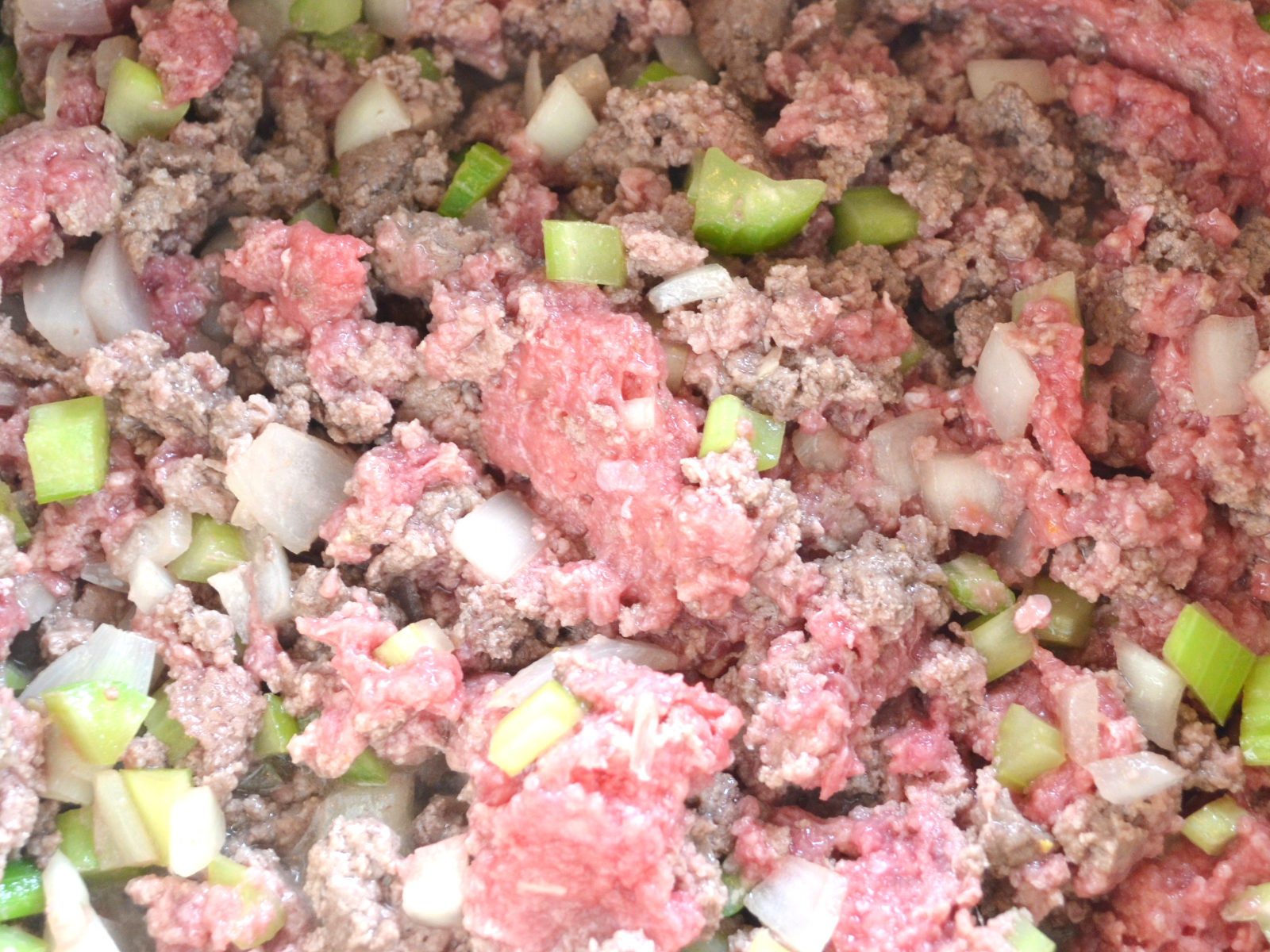 Cook the beef, vegetables, and spices on medium heat. As you cook the mixture, break up the beef and stir the ingredients together until the beef is no longer pink and cooked through.
Once the beef and vegetable mixture is cooked, add the apple cider vinegar, lemon juice, sucanat, tomato paste, tomato sauce, diced tomatoes, and 1 tsp of salt to the pot. Stir everything together.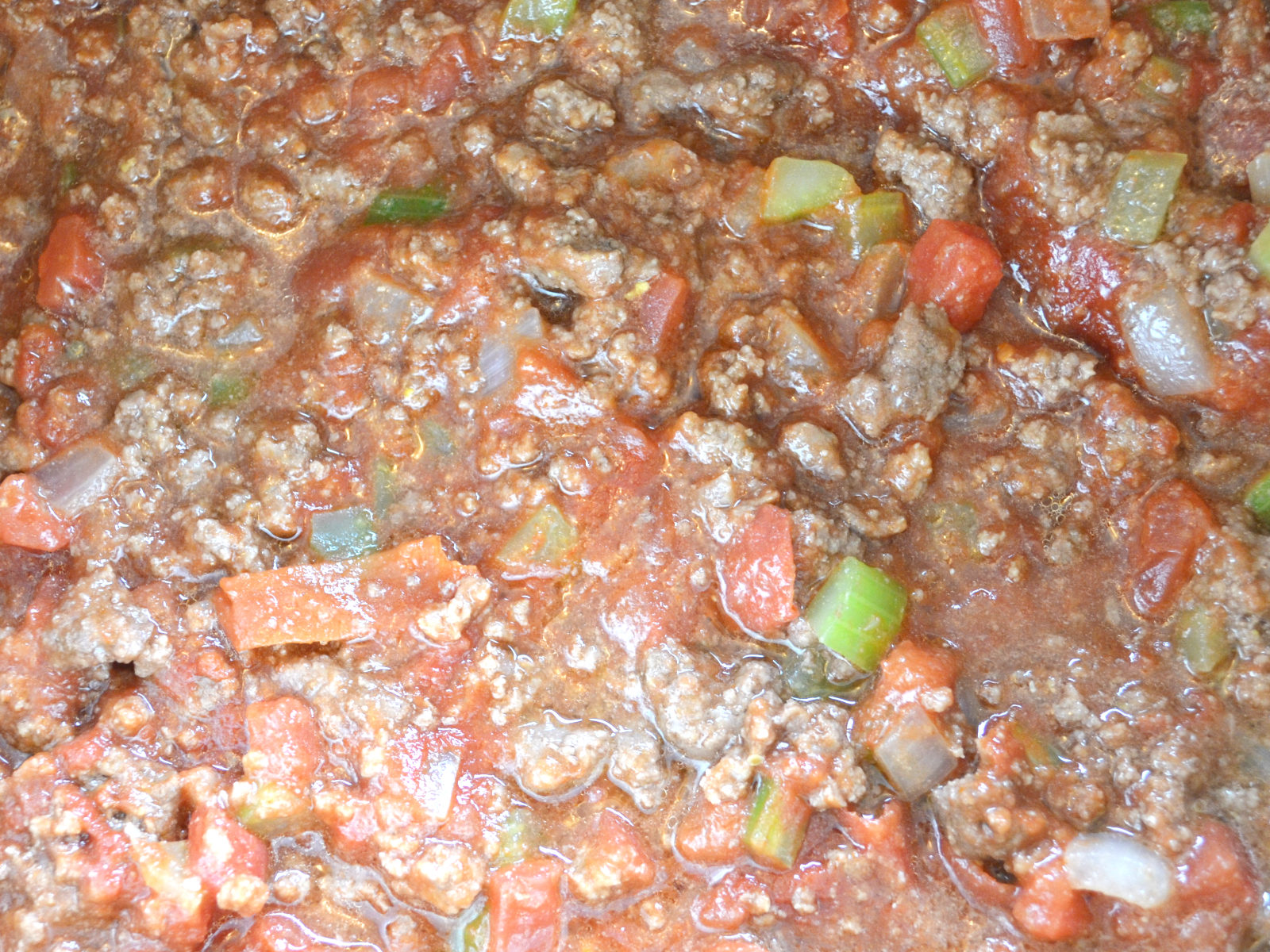 Reduce heat to medium-low or low, depending on your stove. Cook the mixture at a simmer for 20-25 minutes, stirring occasionally. As it cooks, the tomato sauce will cook down and the mixture will become less watery.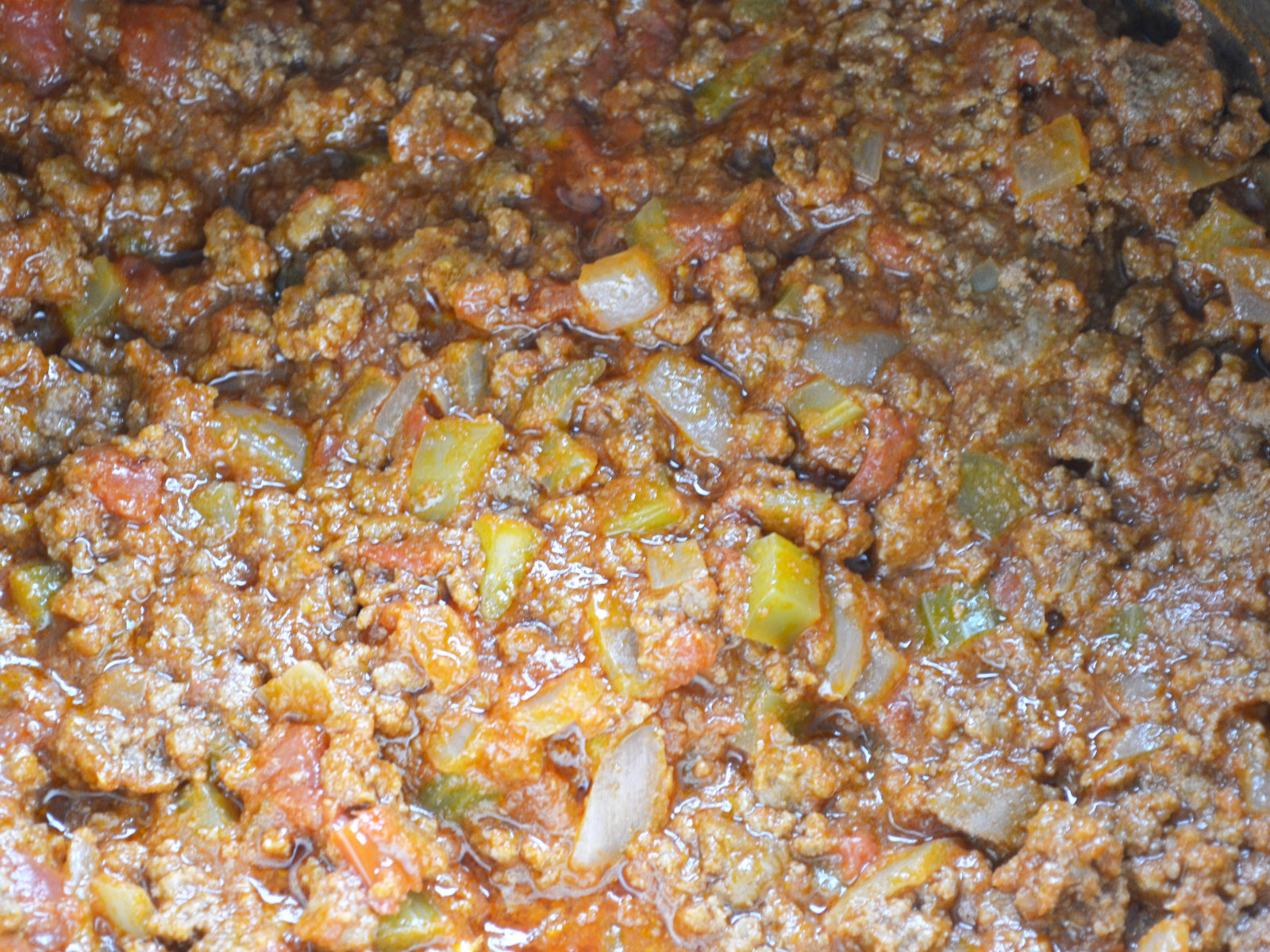 Once it is done cooking, serve on hamburger buns and enjoy!
Print Recipe
Sloppy Joes
A vintage inspired dish that will please the whole family!
Ingredients
2

lbs

ground beef

1

cup

yellow onion

chopped

1

cup

celery

chopped

1½

tsp

salt

divided

1

tsp

garlic powder

1

tbsp

dry mustard

¼

tsp

cayenne pepper

1

tbsp

apple cider vinegar

1

tbsp

lemon juice

1

tbsp

sucanat

or sugar of choice

1

6 oz

can tomato paste

1

8 oz

can tomato sauce

1

15 oz

can diced tomatoes

8

hamburger buns
Instructions
Place beef, chopped onions, and chopped celery in the pot.

Add garlic powder, mustard powder, cayenne pepper, and ½ tsp salt.

Cook on medium heat. As it cooks, break up the beef and stir the ingredients together.

When the beef is cooked through, add apple cider vinegar, lemon juice, sucanat, tomato paste, tomato sauce, diced tomatoes, and 1 tsp of salt to the pot.

Reduce heat to low and simmer for 20-25 minutes.
Notes
Green bell pepper can be substituted for the celery.