Have you ever considered adding a family milk cow to your homestead? There are many dairy cow breeds to consider. With each breed demonstrating unique characteristics and strengths, which one is best for your homestead?
There are six main dairy cow breeds found in the United States. Each breed is unique and carries its own advantages and disadvantages, depending on what characteristics you are looking for in dairy cow breeds.
In addition to the six main dairy breeds, there are numerous dual purpose and heritage breeds that are also options for family milk cows.
This article will take an in depth look at the six main breeds, as well as share other lesser known dairy cow breeds. And lastly, it will point towards some important considerations to think about before selecting a dairy cow breed for your homestead.
Dairy Cow Breeds
1. Ayrshire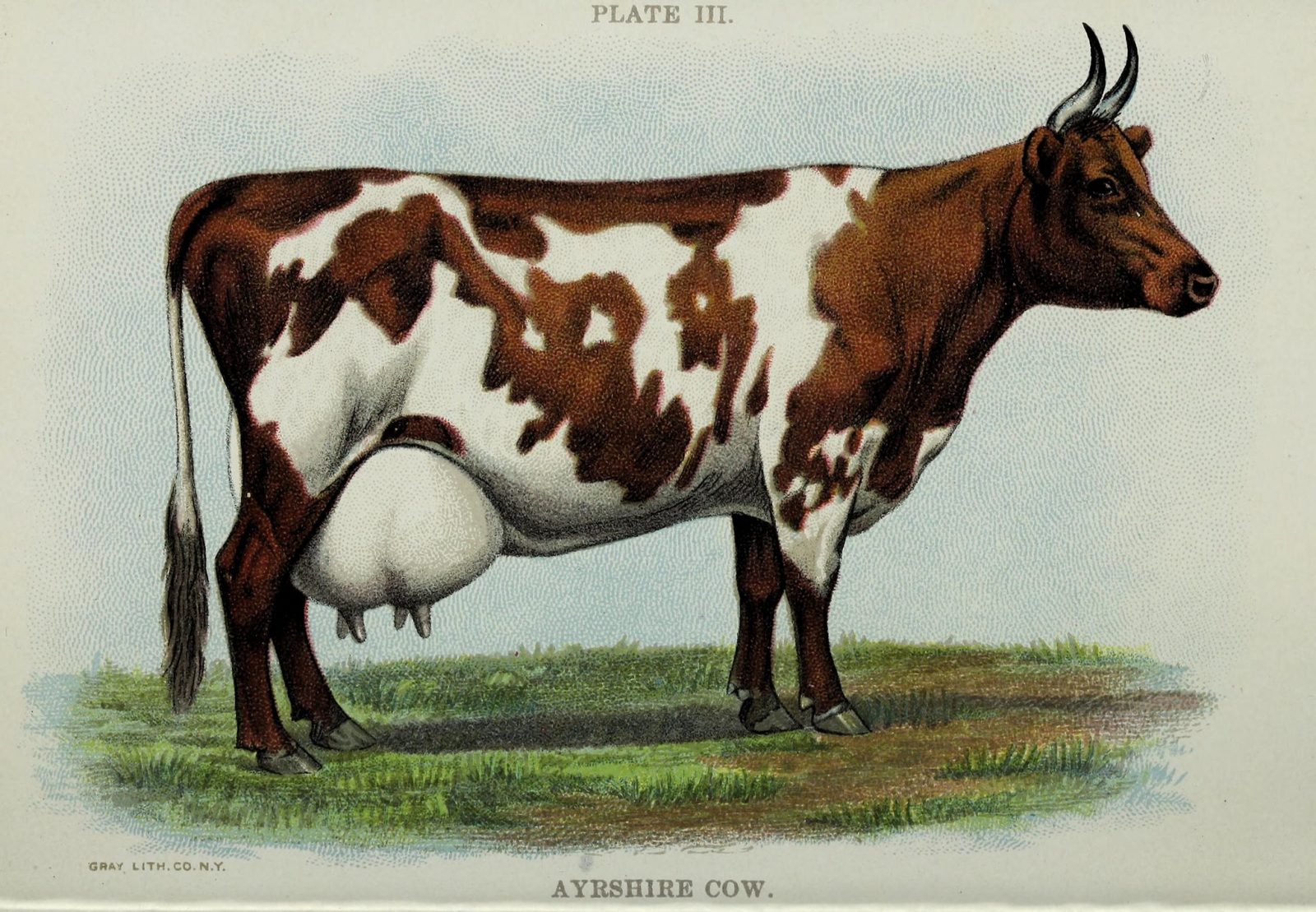 Origin: Scotland
Size: Around 1100 pounds (medium)
Temperament: Alert
History: Originally from County Ayr in southwestern Scotland, Ayrshires first came to North America in the 1830s. The breed was popular in New England and Daniel Webster (of Webster's Dictionary fame) was a strong early proponent of the breed.
Ayrshires used to be listed as an endangered breed by the Livestock Conservancy but fortunately this dairy breed graduated off of the list in 2021, which means the breed is recovering and improving in numbers.
Characteristics: Known for their ability to produce a lot of milk from rough forage, Ayrshires are also hardy and able to adapt to harsh climates and rugged environments. They are also known for their longevity.
Ayrshires are noted as an elegant breed. They are white with dark red markings and spots. They are a vigorous and active breed and are exceptional grazers.
Best For: harsh climates, rough terrain, grazing operations
2. Brown Swiss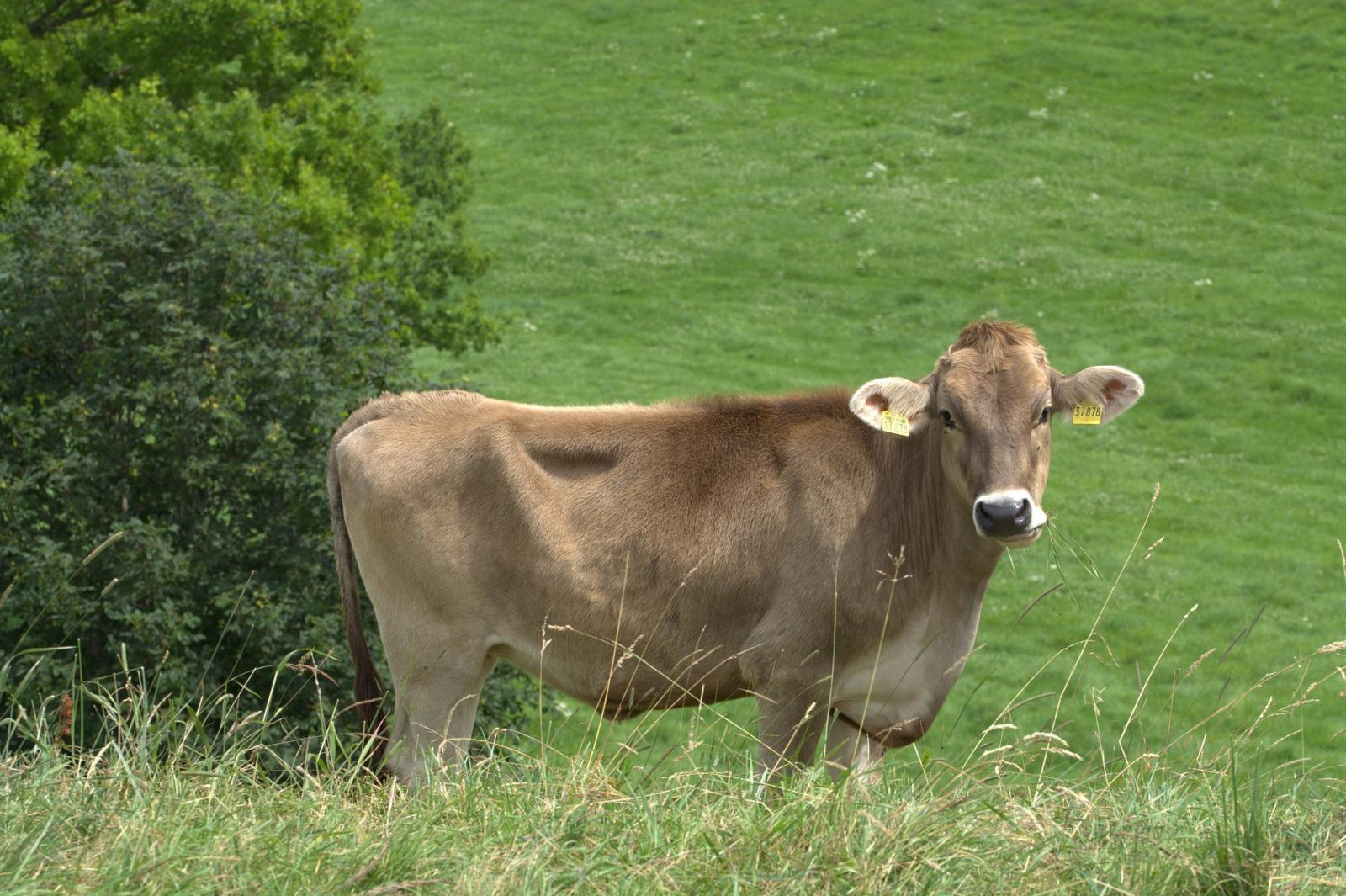 Origin: Switzerland
Size: Around 1500 pounds (large)
Temperament: Docile
History: One of the oldest cattle breeds in existence, Brown Swiss have been around for centuries. They were first imported to the United States in 1869. Initially, they were a tri-purpose breed, used for meat, dairy, and draft power. Over time their genetics were refined to be used exclusively for dairy.
Characteristics: Brown Swiss are a large breed that vary in color from grey to light brown. Due to their origins in the Swiss Alps, Brown Swiss dairy cows are a hardy breed that can adapt to hot and cold climates, as well as high altitudes. They create a high yield of milk that is excellent for cheesemaking due to its high protein to fat ratio.
Brown Swiss are known for their calm temperament and longevity.
Best For: high yield, high component milk, cheesemaking
3. Guernsey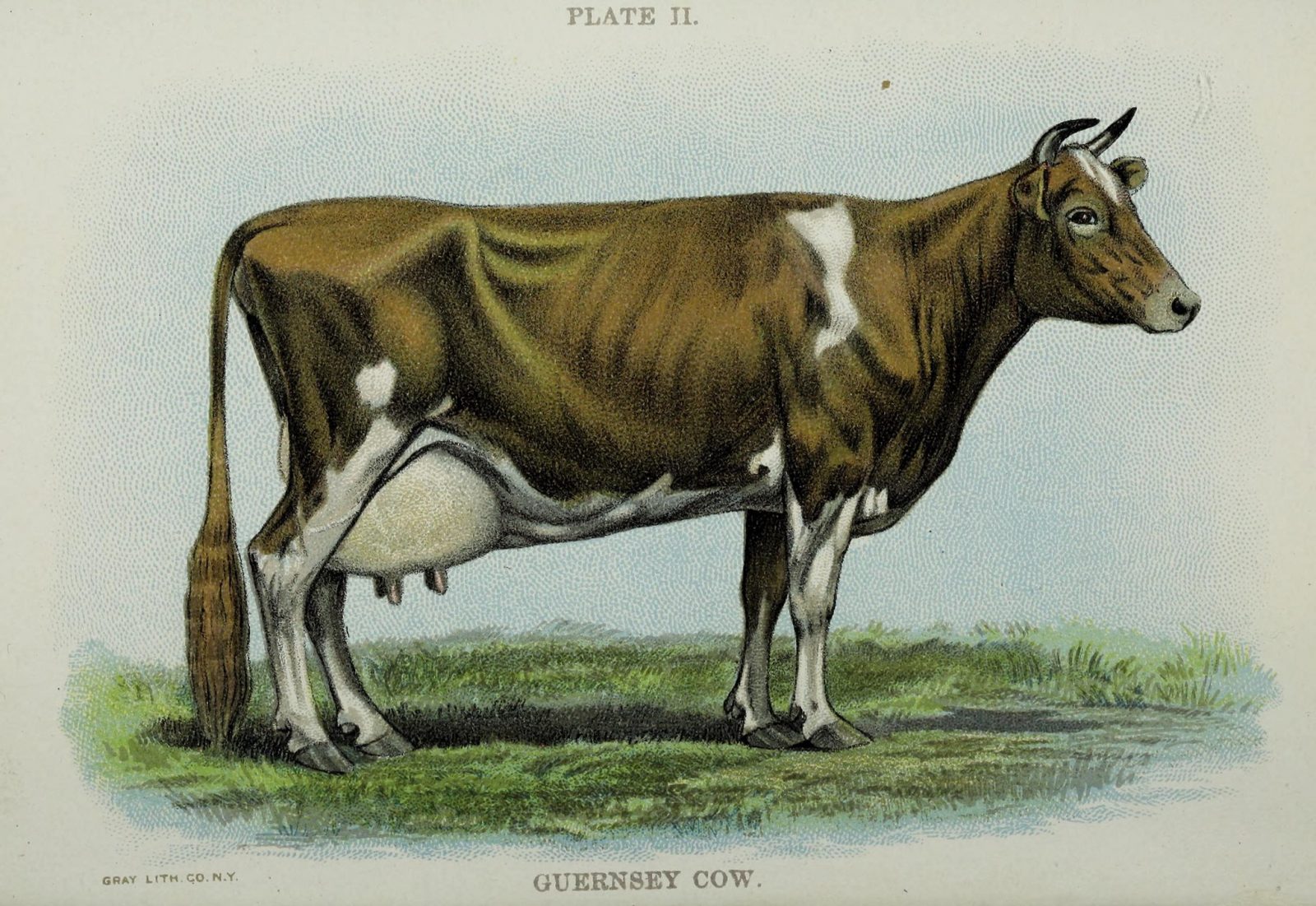 Origin: Isle of Guernsey
Size: Around 1200 pounds (medium)
Temperament: Docile
History: Guernseys originally hail from the small island of Guernsey in the English Channel. In the early 1800s, Guernsey closed the island to the import of other cattle. This means the island has been able to maintain a pure breed of Guernsey cattle.
The Guernsey breed was fairly popular in the United States for some time. However, their numbers started to decline as there was a push towards higher producing breeds. There is now an effort to revive the breed's numbers. However the future of the breed is unclear and it is currently listed under "watch" status with the Livestock Conservancy.
Characteristics: Guernsey cows are fawn to light brown in color with white markings. They are noted for being a docile breed. Guernseys are famous for their beautiful golden hued milk which is caused by a higher level of beta carotene in their milk compared to other breeds. Their milk also contains more protein and butterfat. Guernseys are good grazers and typically adaptable to most environments.
Best For: high component milk, grazing
4. Holstein (Holstein-Friesian)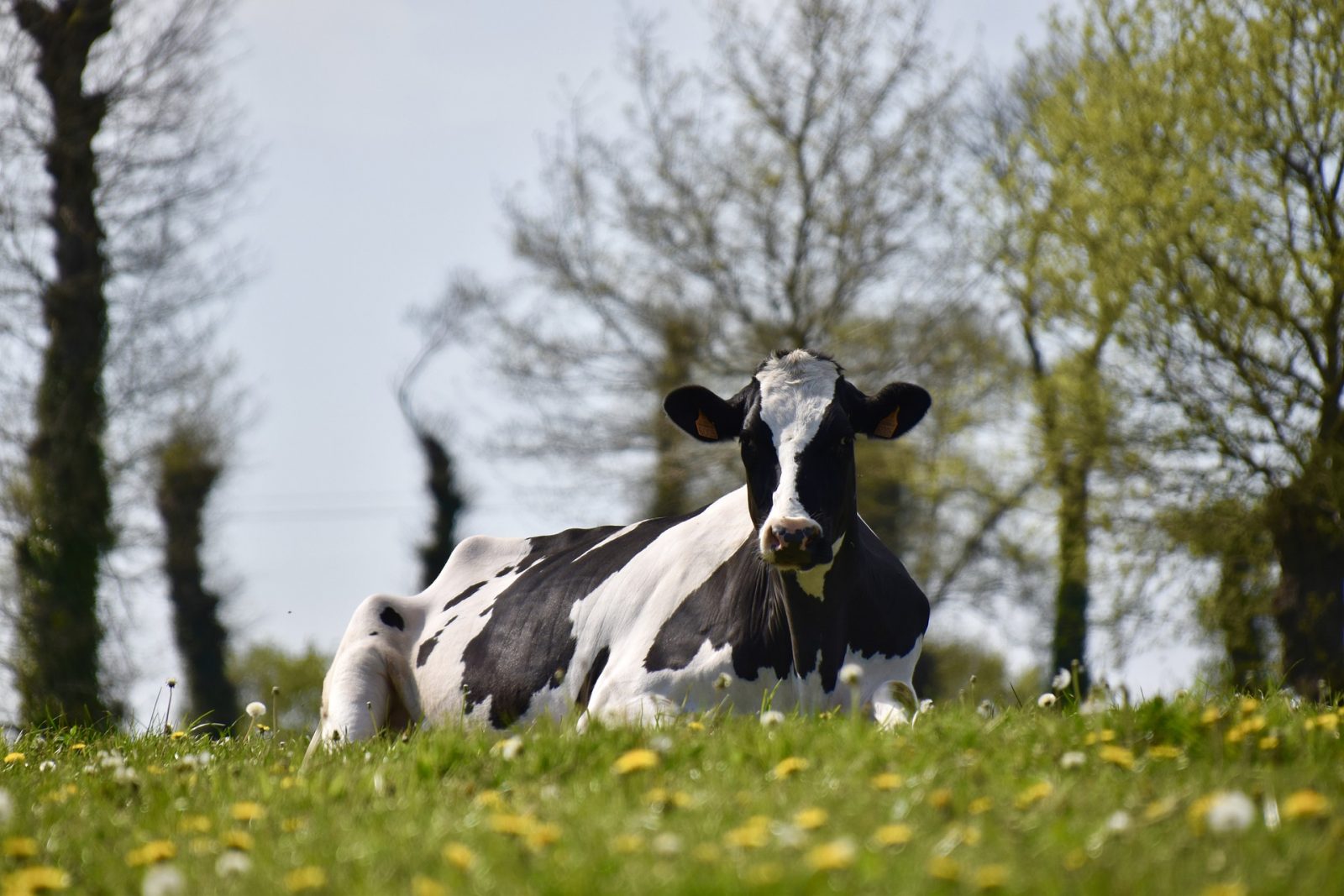 Origin: Germany and the Netherlands
Size: Around 1500 pounds (large)
Temperament: Docile
History: Holstein-Friesians are a breed that was developed many centuries ago by combining Batavians, a black cow from Germany, with Friesians, a white cow from Holland. This resulted in a breed that could produce a great quantity of milk with limited feed.
Originally known as Holstein-Friesians, they are now known simply as Holsteins.  The Friesian breed is still in existence today and is a separate and distinct breed from the Holstein.
Holsteins were brought to the United States in the 1850s and became quite popular due to their impressive production level.
Characteristics: Perhaps the most recognizable of all the dairy breeds, the Holstein typically has distinctive black and white markings, though there are also red and white Holsteins. They are are the most common dairy cow in the United States. Holsteins are very large and are valued for their high volume production of milk.
Best For: high volume production
5. Jersey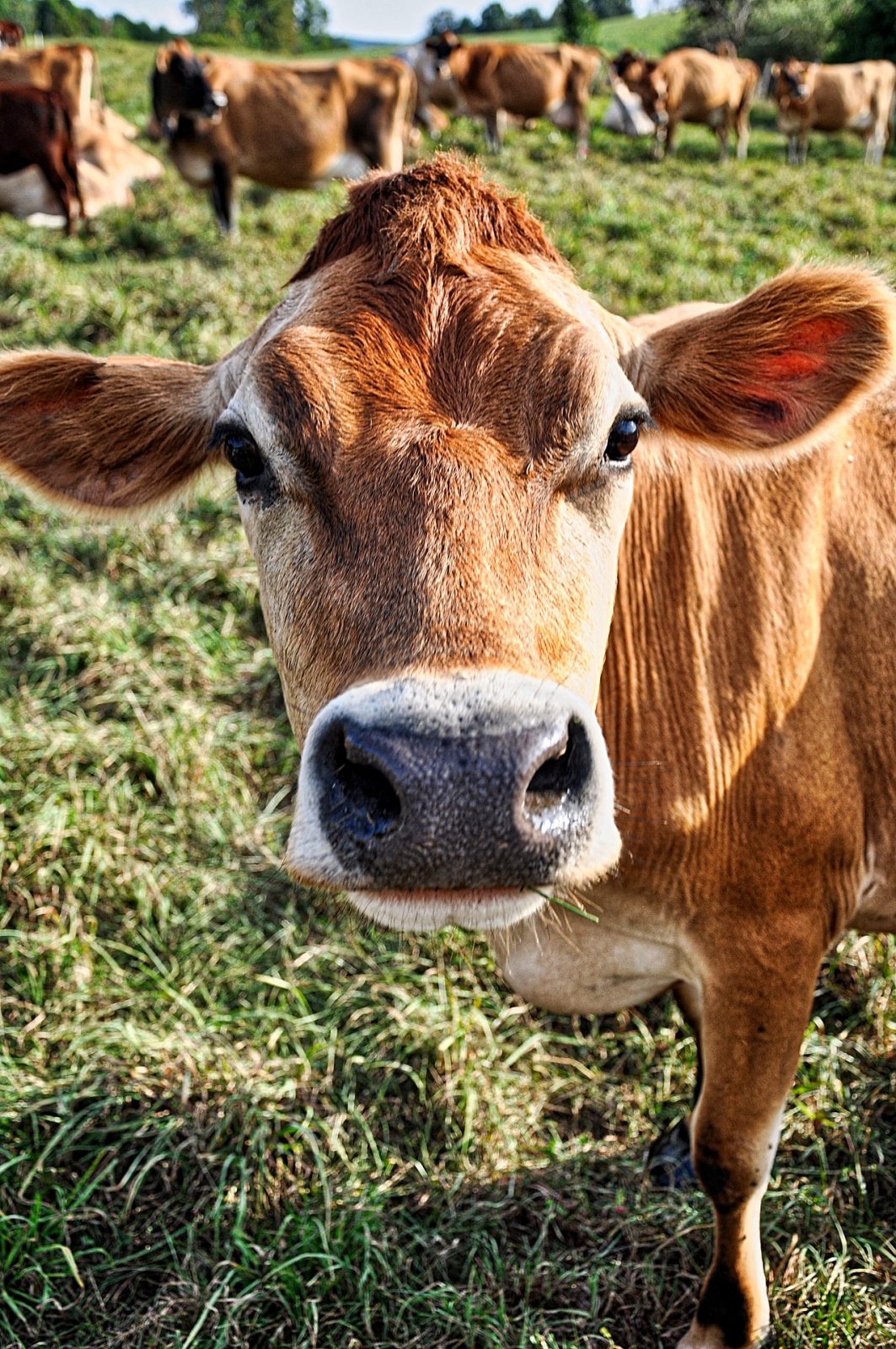 Origin: Isle of Jersey
Size: About 1000 pounds (small)
Temperament: Varies
History: Originally from the Isle of Jersey in the English Channel (just a short distance from the Isle of Guernsey), the Jersey breed arrived in the United States in the 1850s. Like the Isle of Guernsey, the Isle of Jersey does not permit the import of cattle in order to maintain a purebred breed on the island. The Jersey breed has also been highly refined in New Zealand, where there is a strong emphasis on A2/A2 and grazing genetics.
Characteristics: Jerseys are the second most popular breed in the United States, behind Holsteins. While they are smaller than other breeds, they are highly efficient and are able to create milk with higher protein and butterfat with less input. They also are a more heat tolerant breed.
Jerseys range in color from a light fawn to dark brown, and some cows have a black face. With their large doe-like eyes and large ears, Jerseys have a very endearing look to them. While many Jerseys are docile, the breed is also known to have a flair for dramatics with some cows who like to show off their sass and stubbornness.
Best For: warmer climates, grazing, high component milk
6. Heritage Shorthorn (Milking Shorthorn)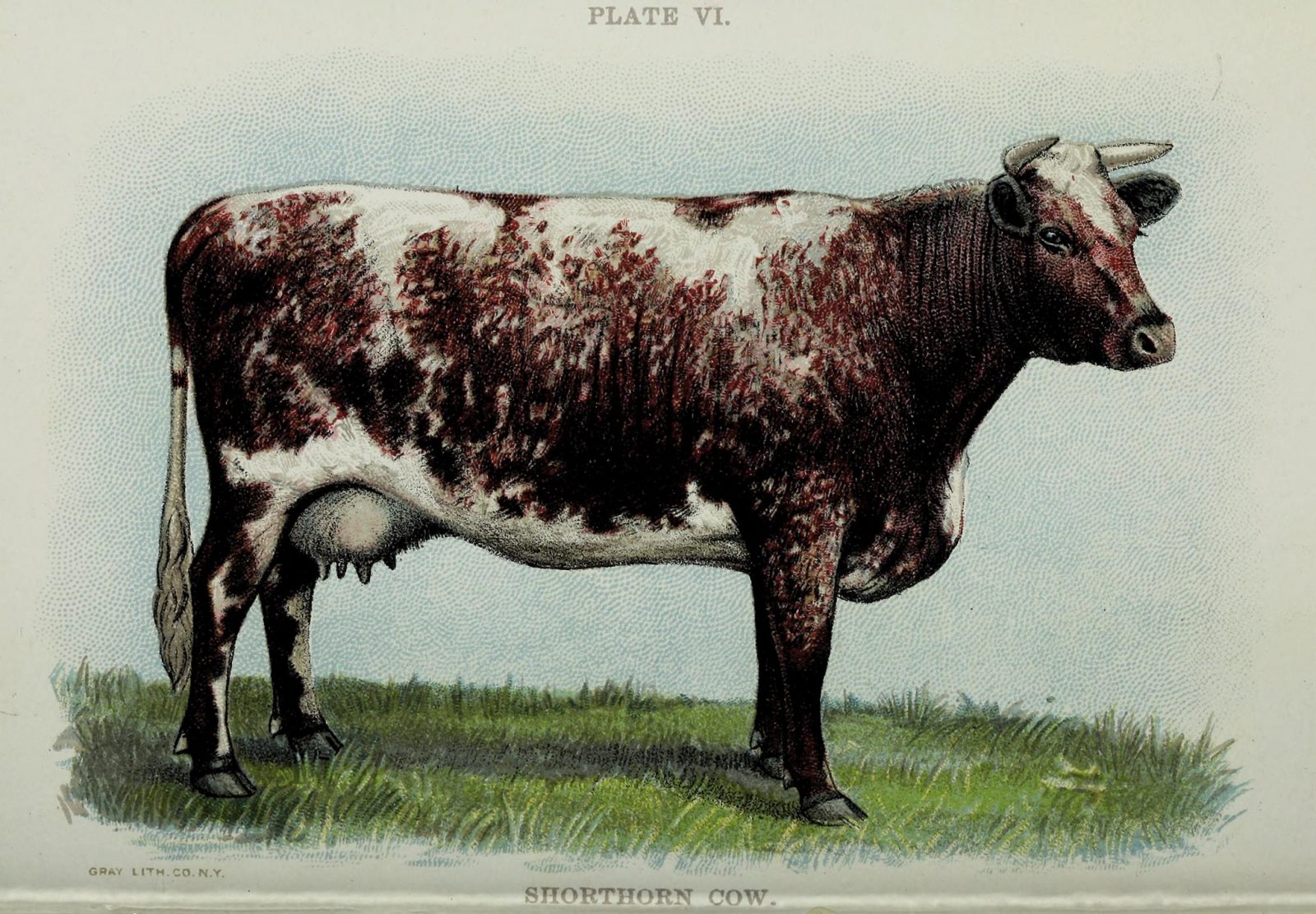 Origin: England
Size: Around 1200 pounds (medium)
Temperament: Docile
History: Originally bred in northeast England as a tri-purpose breed (meat, dairy, and draft), Shorthorns have been around for many centuries. The breed first came to North America in the late 1700s.
Some Shorthorn breeders bred more for beef traits, while others bred for dairy traits. Because of this natural divergence, in the early 1900s the breed formally split. Beef Shorthorns are simply "Shorthorns," while dairy Shorthorns were called "Milking Shorthorns." In recent years, that name has started to change and the name "Heritage Shorthorn" is now the preferred breed name for Shorthorns who retain the original breed standard.
The beef side of the breed has had more overall success than the dairy side. And much like other dairy breeds who struggled to compete with the production levels of Holsteins, the Milking Shorthorn breed has experienced a significant decline in population. The breed is labeled as "threatened" by the Livestock Conservancy.
Characteristics: With their red, white, and roan colors mixed in with their spotted coats, Milking Shorthorns are a beautiful breed, known for their calm disposition, efficient grazing, longevity, and productivity. Their milk has a high protein to fat ratio.
Best For: versatility, grazing operations
Other Dairy Cow Breeds to Consider
While the above six breeds are the most well known and common dairy breeds, there are still many other breeds that are worth considering when thinking about the best dairy cow breed for your homestead.
The following dual purpose and heritage breeds are worth considering as family milk cows on the homestead. If you are interested in learning more about heritage breed livestock and why they are so important, you can read my post about them here!
Canadienne– One of the few breeds developed in Canada, the Canadienne breed is known for its ability to thrive on poor forage and rough terrain, much like the Ayrshire.
Dexter– A smaller breed, Dexters are hardy and efficient. They are a great dual purpose breed (meat and dairy) that have become somewhat popular in the homesteading community.
Dutch Belted– With its striking appearance, the Dutch Belted breed is known for its longevity and ease of reproduction. They are a good option for grazing operations.
Kerry– A hardy and productive Irish breed that is known for its ease of reproduction and grazing abilities. The milk produced by Kerry cows is good for cheesemaking.
Milking Devon– Originally a tri-purpose breed from England, the Milking Devon was developed in the United States as breeders selected for milking qualities.
Pineywoods– A dual purpose breed, Pineywoods are descendants of Spanish cattle that were brought to North America in the early 1500s. The breed is primarily found in the southeastern United States.
Randall– A dual purpose breed with a long and rich heritage in the northeastern United States.
Red Poll– A docile breed, the Red Poll is a dual purpose breed that does well with a rotational grazing system.
Considerations for Selecting a Dairy Cow Breed
With so many wonderful breeds to choose from, how does one go about selecting the best breed for your homestead?
There are several factors to consider that will help refine your selection.
Best Fit for Your Land
Evaluating your land is without a doubt the first and most important thing to consider.
Is your homestead smaller? Then it would be best to look for a smaller breed such as a Jersey or Dexter.
How is the forage or terrain on your land? If you have rough terrain or poor forage, a hardy breed such as Ayrshire or Canadienne would probably be best for you.
What are your goals for grazing? Are you ok with feeding grain? Some breeds have stronger grass genetics, while over time, other breeds have come to depend on grain in addition to grass.
If you are looking to have 100% grass fed milk, then you need to very carefully select a cow that is able to thrive in a grass based system.
Volume of Milk vs. Milk Components
What is more important to you, how much milk your cow will give, or what the milk components are (protein and butterfat ratios)?
If you plan to use the milk to make things such as butter, cheese, and ice cream, you will definitely want to select a breed with high milk components (Brown Swiss, Guernsey, Jersey, Milking Shorthorn, Kerry).
Is the milk just for your family, or do you plan to sell it? If you plan to sell milk, then a higher producing breed might be a better option (Brown Swiss, Holstein).
Accessibility and Ease of Breeding
The accessibility of what is in your area is another one of the biggest factors that will affect your choice of dairy cow.
Holsteins are by far the most common breed that can be found throughout the country. Jerseys are also fairly easy to find.
Brown Swiss, Guernseys, and Dexters can usually be found with a little bit of effort.
Ayrshires and Heritage Shorthorns are out there, but harder yet to find.
And many of the other breeds you might have to search long and hard for.
Even once you procure the breed of choice, there are other practical considerations when it comes to breeding. If you prefer to breed using live cover, you will need to find a local bull to service your cow. But if there is no local bull, are you set up to safely handle a bull on your property?
If live cover is not an option, artificial insemination (AI) is an option, but even that can be somewhat difficult depending on the breed. It can be fairly easy and inexpensive to procure semen straws for Holsteins and Jerseys, but you may have to pay for the cost of shipping and storage for many of the other breeds, and that can add up to a fair amount of money.
Dual Purpose Breeds
At first glance, dual purpose breeds seem like a fantastic option for homesteaders. It gives them the best of both worlds, a family milk cow with the option of growing beef to put in the freezer if the cow gives birth to a bull.
However, there are some nuances to this. While dual purpose breeds certainly can work well on many homesteads, the reality is that even with dual purpose breeds, the genetics tend to lean one way or the other.
So a bull born to a dual purpose Dexter dairy cow is not going to be as beefy as a bull born to a Dexter beef cow. A dairy producer is always looking to improve dairy components, while a beef producer is always looking to improve beef components. While it may be the same breed, the goal is different, which leads to different characteristics and strengths.
That is why some breeds that used to be dual purpose, such as the Heritage Shorthorn and Milking Devon, have actually separated into their own full fledged breeds.
Dual purpose breeds have a lot to offer the homesteader, just keep in mind that there are more nuances to the situation than what appears at first glance.
Conclusion
There are so many beautiful dairy cow breeds and each offers its own strengths and weaknesses, advantages and disadvantages.
It can be difficult to figure out out which one is best for you, but by taking a good hard look at your property, your goals for dairy production, and what is easily available in your area, it is possible to narrow in on the right breed(s) for your homestead.
I find the diversity of dairy breeds to be such a beautiful part of God's creation. I love learning about each breed and the rich heritage and the unique characteristics it has to offer.
On our homestead, we currently have a few Jerseys. While this is not necessarily the breed we want to go with long term based off of our personal goals, it is the breed that was most easily available and fit best with the goals for our land. While they may not be the perfect fit for us long term, they are the right fit for us for the time being.
It is ok to not get the dairy cow of your dreams right away! Work with what is in your area and if you find that you want to move in a different direction, you can move ahead from there.
How about you? What breed do you think would be best for your homestead? Do you have a personal favorite? I love dairy cows so much and I wish I could own one of each! Share your thoughts in the comments below!