Homesteading is such a unique experience. There is so much to learn not only as you begin your journey, but as you dive deeper into the lifestyle. That is why creating a library of books about homesteading is an invaluable resource for all homesteaders.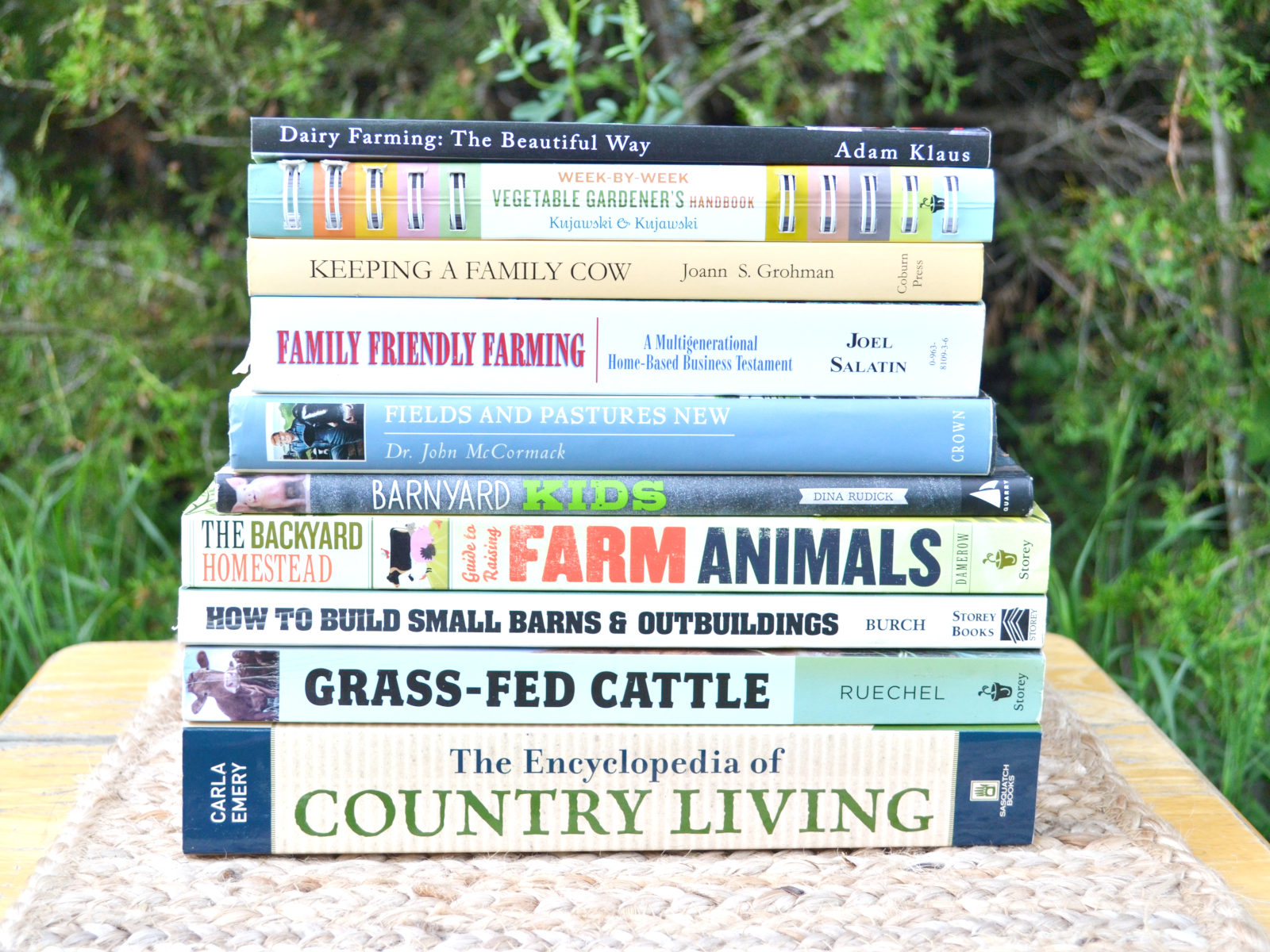 The internet is filled with information and there are many voices out there that offer suggestions and guidance. While it can be really helpful to have access to such a wealth of information, sometimes it can be hard to sift through all the noise and find the information you are seeking.
I do consider the internet to be a valuable resource, and I certainly use it regularly, but I find greater solace in turning to my collection of books.
There is comfort in using trusted resources. I find greater peace in flipping through tangible pages in books, rather than endlessly scrolling online. It fits better with my pace of life.
I have previously shared how important I feel it is to have a home libary. This collection of homestead books is born out of my larger library. This is a list of some of my favorite books that help me navigate life on the homestead.
10 Must Have Books about Homesteading
by Carla Emery
This classic homesteading book has been a go to resource for homesteaders for decades. It is chock full of helpful information on all areas of homesteading life. From gardening to food preservation to livestock husbandry and more, this book should be on the shelves of every homesteader.
by Joel Salatin

I am a big fan of Joel Salatin and I own many of his books. They are all fantastic resources. But Family Friendly Farming is hands down my favorite book written by him. It embodies so much of my philosophy of why we are living this lifestyle with our family. With helpful tips on how to include children in your business to how to handle transitioning a farm business from one generation to the next, this book is a helpful and inspiring resource!
by Dina Rudick
My kids love this book. It was a great introduction for them on how to care for different species on the homestead. It is so informative that I have even gleaned helpful information from it. Even kids who do not live on a homestead will enjoy flipping through this book and learning more about a variety of farm animals.
by Joann S. Grohman
Another classic homestead book that has proven to be a valuable resource for decades! Keeping a Family Cow is filled with a surprising amount of information. I read this book from cover to cover before we brought out first Jersey to the homestead. I felt so much more prepared after I read it. I still pull it off the shelf and use it as a reference regularly.
by Adam J. Klaus
This is an absolutely lovely book. It reads like a love letter to dairy farming. It also passes along an impressive amount of wisdom on how to manage a dairy farm. If you have a small herd of dairy cows, this is a must read. It is one of my favorite homesteading books of all time.
by Julius Ruechel
This is one of the first homestead books that I purchased. I was in need of more information about how to implement rotational grazing. This book was helpful and easy for a beginner to gain knowledge from. The book is geared towards managing beef cattle, but the information translates well to other rotational grazing operations as well.
by Gail Damerow
This is a newer addition to my homestead book library. I was drawn to this book through its lovely illustrations and the broad range of topics it covers. It is an enjoyable read with a lot of helpful information in it. My daughter really enjoyed flipping through it and shared some of the things she learned from it with me.
by Harvey Ussery

This is my favorite book that is dedicated to the care of poultry. I believe that if you have this book, you really will not need any other poultry books. Since it is geared towards small-scale production, it translates perfectly to the homestead setting. I highly recommend this book.
by Ron Kujawski and Jennifer Kujawski
I must confess, I am not a very good gardener. I have little experience with it and I have struggled to grow a thriving and productive garden. But each year I get a little better. I purchased this book last year and it was immensely helpful. It has a unique setup where you calculate a weekly schedule based off of your last average frost date. It has helped me stay on track and guided me through the planting season. It also has a lot of helpful articles sprinkled throughout it. If you are a newbie gardener and need some extra hand holding, this is a great book for you!
by Monte Burch
Since we are building a homestead from scratch, we have had to build all of our infrastructure as we progess and grow. It is no easy task, and it can feel rather overwhelming at times. This book has a lot of helpful plans for various outbuildings. It also includes basic information about plumbing and electricity as well.
by Dr. John McCormack
And here is a bonus recommendation. If you are a fan on James Herriot, you are sure to love this book. It follows the real life adventures of a country vet in rural Alabama in the 1960s. It is full of funny and heartwarming stories. It takes a lot for me to laugh out loud when I am reading books, but this one had me chuckling numerous times. I have also enjoyed reading reading the next books in the series, A Friend of the Flock, and Hero of the Herd.
What are your favorite homesteading books? Feel free to share in the comments below!