Are you looking for a quick and easy breakfast option? This Healthy Swiss Muesli recipe has you covered! Filled with wholesome whole grains and naturally sweetened with dried fruit, this muesli is perfect to have on hand for busy mornings!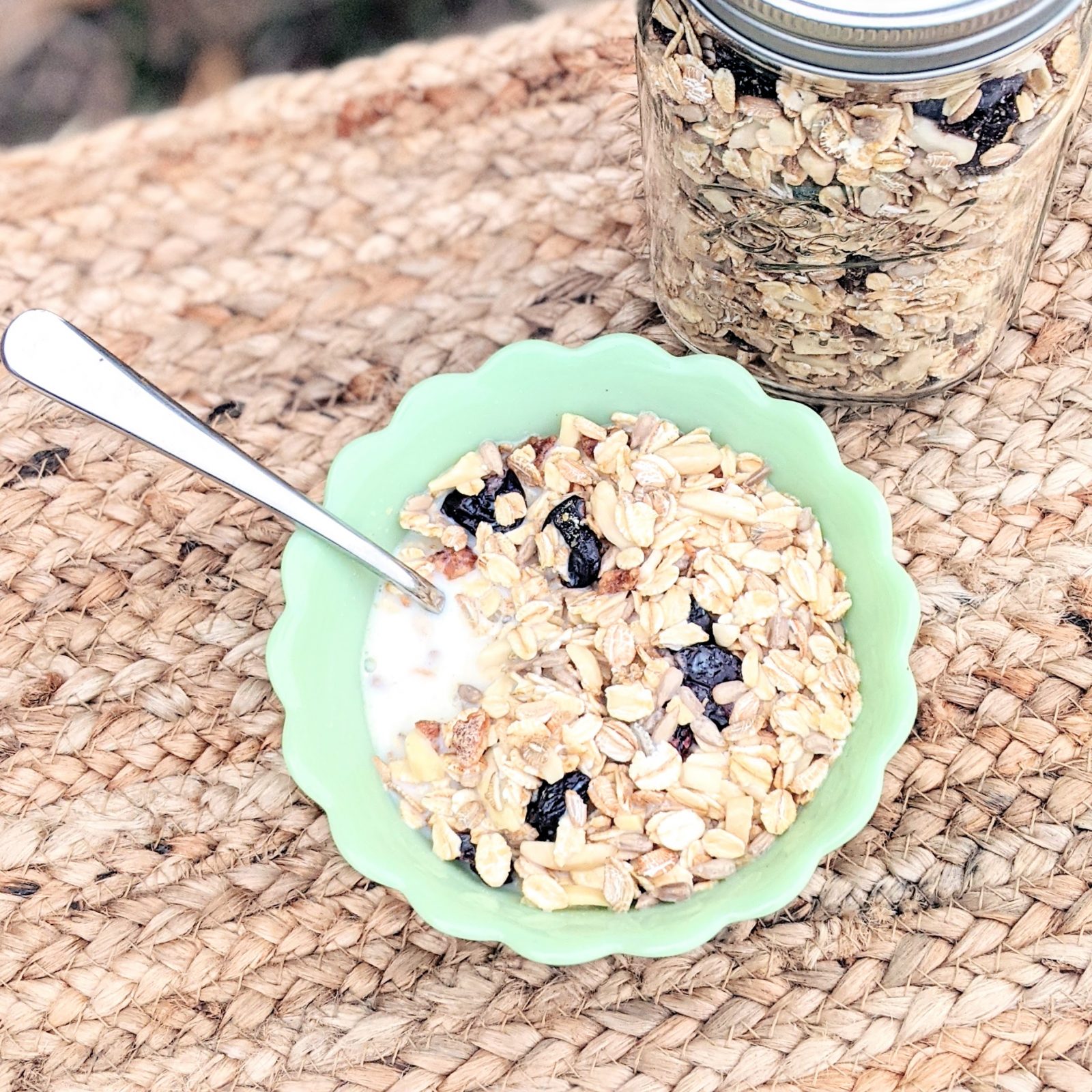 History of Muesli
Muesli originated in Switzerland with physician Maximallian Bircher-Benner. Bircher-Benner ran a sanatorium where he advocated for eating a diet full of raw foods, particularly fruits and vegetables.
While today muesli is typically eaten at breakfast, the original dish was created to be eaten as a supper dish. The original recipe was composed of the following ingredients:
-shredded apple (the entire apple was used: skin, core, and seeds)
-nuts (walnuts, almonds, or hazelnuts)
-oats (that had been soaked in water for 12 hours)
-lemon juice
-cream and honey or sweetened condensed milk
While the muesli of today has altered a bit from the original recipe, the spirit of it remains the same. It is a dish that is eaten raw with fruit, nuts, and oats, with the addition of milk or yogurt.
Is it ok to eat muesli everyday?
Yes! Muesli is a healthy, high fiber food that can be eaten everyday. It is very filling. Enjoy it for breakfast or as an afternoon snack.
Is muesli healthier than oatmeal?
Regular oatmeal and muesli are both healthy. Muesli has a slight advantage in that it has a higher amount of protein due to the nuts and other additional ingredients that are not typically found in regular oatmeal.
Should muesli be soaked before eating?
You do not have to soak muesli before eating, however, I personally prefer to let my muesli sit for about 5 or 10 minutes after I add milk to it. This allows the muesli to soften up a little and makes it more enjoyable to eat, in my opinion.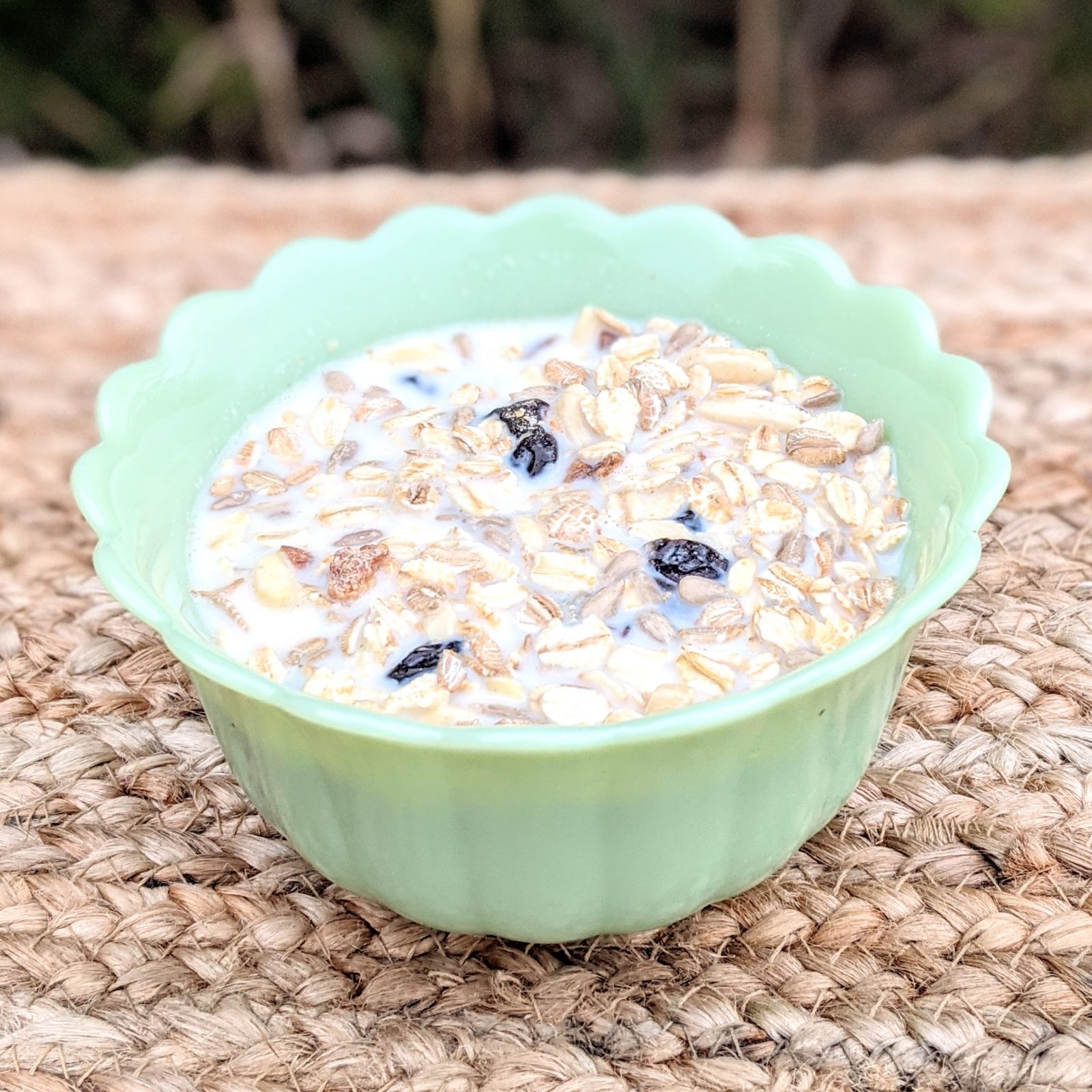 How do you make muesli?
Muesli is really simple to make. All you have to do is put together the proper ratio of ingredients, combine everything, and then store it in an air tight container.
This allows you to have a simple, yet delicious breakfast or snack on hand!
While I share my specific recipe for making muesli below, here is a basic formula for making muesli. You can use this formula to mix and match to make your own muesli recipe.
5 cups rolled or flaked whole grains (rolled oats, barley flakes, rye flakes, wheat flakes etc.)
1 cup chopped nuts (walnut, almond, pecan, peanut, etc.)
1 cup dried fruit (cherries, apricots, apples, cranberries, etc.)
1/2 cup seeds (sunflower or pumpkin)
1/2 cup chopped dates or raisins
With this basic formula, the possibilities are endless! But if you feel overwhelmed by creating your own muesli recipe, I have my personal homemade healthy muesli recipe below.
Where to Source Muesli Ingredients
I get all of the ingredients for my muesli recipe from Azure Standard. I have found this to be one of the best places to source quality organic products.
It is a one stop shop for all the ingredients that I need for muesli. Not only can I get the organic whole grains, but I can also get the nuts, seeds, and dried fruits through Azure!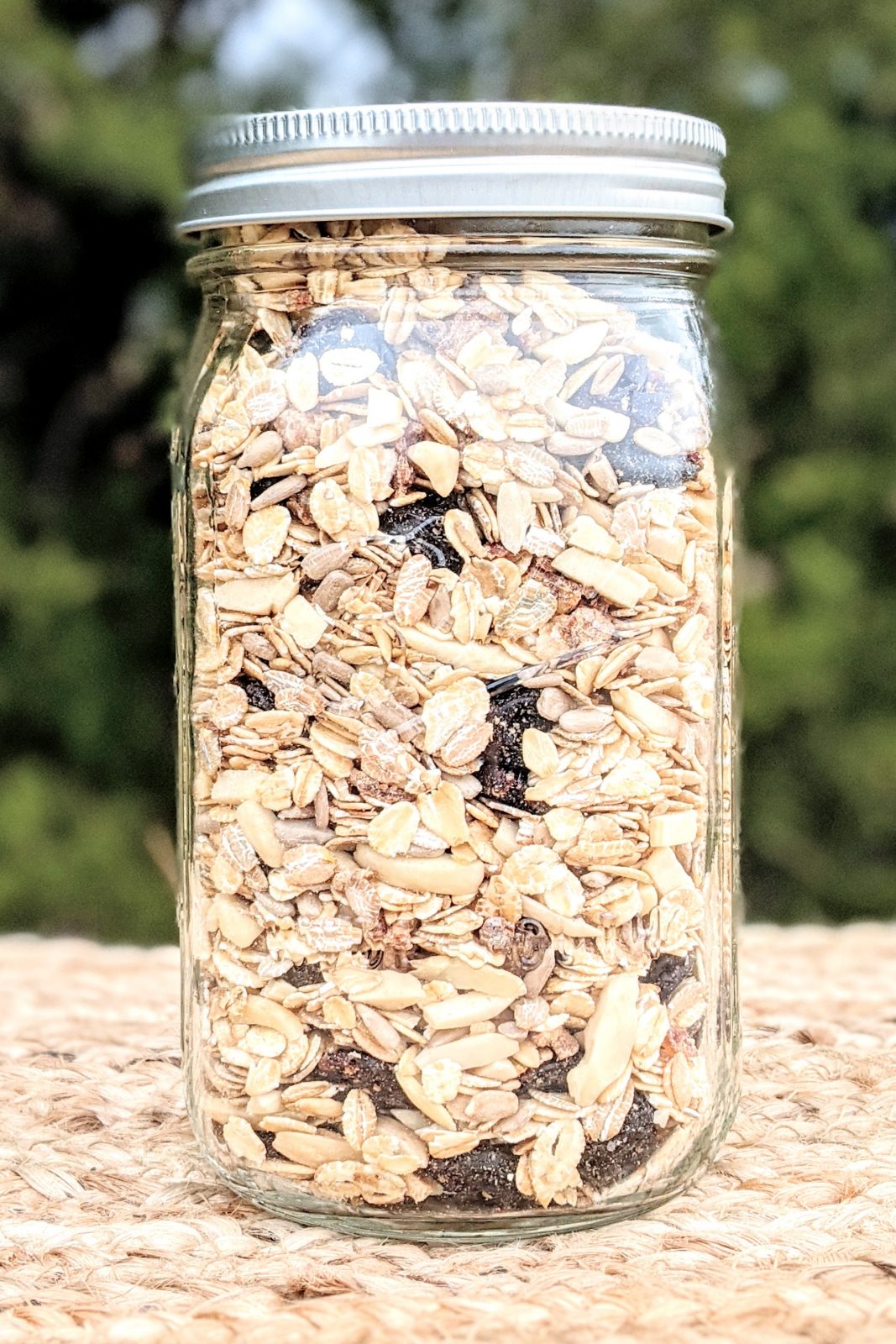 Best Homemade Muesli Recipe
In my personal opinion, this is the best combination of ingredients to make a wholesome, healthy, and delicious muesli recipe. While barley flakes and rye flakes can be harder to source, they add a wonderful dimension of flavor. You could certainly substitute rolled oats in place of the barley and rye, but I think it is worth adding those two ingredients.
Yield: 8 cups
Ingredients:
2 cups old fashioned rolled oats (purchase here)
2 cups barley flakes (purchase here)
1 cup rye flakes (purchase here)
1 cup slivered almonds (purchase here)
1 cup dried cherries (purchase here)
1/2 cup chopped dates (purchase here)
1/2 cup sunflower seeds (purchase here)
Method:
In a large bowl, combine all ingredients well. Store in airtight container. Serve with milk or yogurt.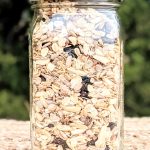 Print Recipe
Healthy Swiss Muesli Recipe
A delicious combination of whole grains, nuts, seats, and dried fruit. A simple and perfect breakfast.
Ingredients
2

cups

old fashioned rolled oats

2

cups

barley flakes

1

cup

rye flakes

1

cup

almonds

slivered

1

cup

cherries

dried

½

cup

dates

chopped

½

cup

sunflower seeds
Instructions
In a large bowl, combine all ingredients well.

Store in airtight container.

Serve with milk or yogurt.
What is your favorite quick breakfast? Share in the comments below!