Come join along for some book club fun!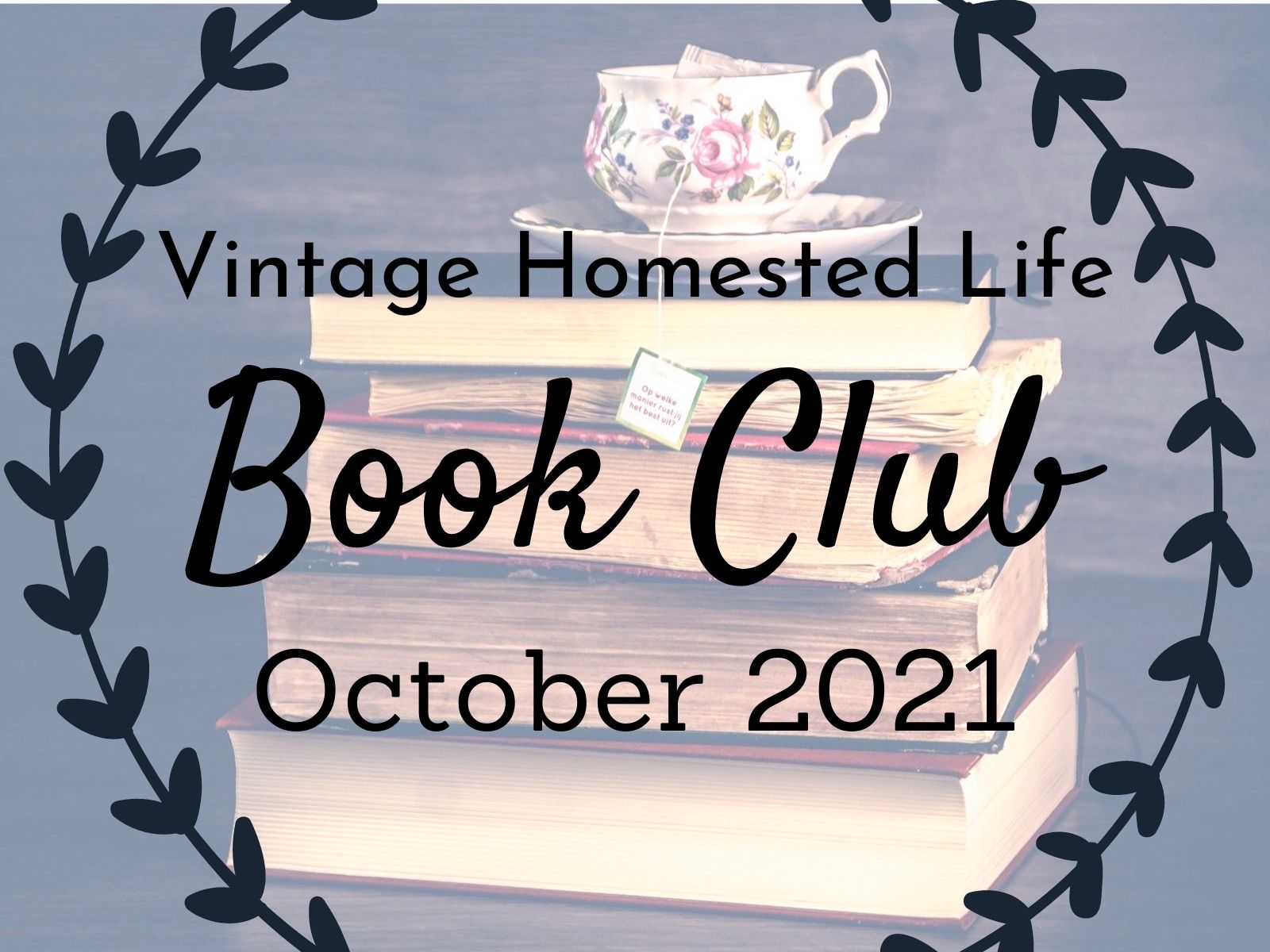 Vintage Book Club
Here is how it works. At the beginning of every month I announce the book we will be reading for the month.
At the end of the month I update this post with some discussion questions. We use the comments section below to share our thoughts with each other.
Since this is a blog geared towards vintage living, most of the books that I select are related to vintage life.
The book may be an actual vintage book written in the early to mid 20th century. Or it may be a more current book that explores a topic from that era, or is set in that era.
I am so excited to go on a reading adventure with you!
Make sure you subscribe to the blog so you will be notified when the discussion questions get posted.
That is also the best way to stay updated on the new book selections every month!
VINTAGE BOOK CLUB SELECTION: October 2021
This month we will read A Lantern in Her Hand by Bess Streeter Aldrich.
This book is very special to me as it was my Grandma's favorite story. I read it for the first time several years ago, shortly after my Grandma died at the age of 92.
As I read the book, I was able to make the connection as to why it was her favorite book. I imagine it was easy for Grandma to relate to the main character, Abbie Deal. I believe many of the themes that echo throughout the book are things that my Grandma wrestled with in her own life.
This is a beautiful story and I am excited to read it along with you all!
From the book description:
"In A Lantern in Her Hand, Abbie accompanies her family to the soon-to-be state of Nebraska. There, in 1865, she marries and settles into a sod house of her own. The novel describes Abbie's years of child-raising, of making a frontier home able to withstand every adversity. A disciplined writer knowledgeable about true stories of pioneer days in Nebraska, Bess Streeter Aldrich conveys the strength of everyday things, the surprise of familiar faces, and the look of the unspoiled landscape during different seasons. Refusing to be broken by hard experience, Abbie sets a joyful example for her family- and her readers."
Are you ready to dive into A Lantern in Her Hand?
Where to find the book:
And of course, your local library!
Happy reading!

Book Club Discussion
Did you all enjoy reading A Lantern in Her Hand? I am excited to hear your thoughts on the book.
My copy of this book has an essay at the beginning of it, written by Bess Streeter Aldrich. She shares the story behind her story. To begin, I want to share a quote from the essay.
"'A Lantern in Her Hand' was written to please noone but my own consciousness of the character of many of those pioneer mothers. It was written in the so-called 'mad twenties' when most of the best selling books were about sophistication, flaming youth,  or far-flung countries. There was some youth in it, but not of the flaming type. There was no sophistication, for Abbie Deal was of the soil. There was not even diversity of scene, for Abbie was only a homemaker. 'Lantern' seemed destined to be lost in the wave of the popular type of the times. That it has made new friends each year since that day might be a bit of a lesson for young writers. Regardless of the popular literary trend of the times, write the thing which lies close to your heart."
I love this quote and her heartfelt advice. And I love the fact that A Lantern in Her Hand defied the popular trends of its time.
Here are some questions for consideration:
What is your favorite quote from the book?
How do you see Abbie's friendships with Sarah and Christine change throughout the book?
What are some of the themes that you picked up on in this book?
What do you think about Abbie's sacrifice of her dreams in order to boost the dreams of her children?
Do you think Abbie would have been happy if she had married Dr. Ed Matthews instead of Will?
Abbie was very hesitant to leave Iowa. Do you think in the end she regretted her family's move to Nebraska?
Share your thoughts in the comments below!